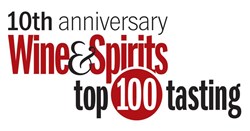 "It's a chance to talk with the winemakers and taste the wines that have come out on top in our blind tasting of more than 12,500 new releases."
New York, NY (PRWEB) September 19, 2013
Wine & Spirits Magazine (W&S) will celebrate the Tenth Anniversary of their Annual Top 100 Tasting on Tuesday, October 15, 2013, at City View at METREON in San Francisco. A benefit for San Francisco Baykeeper, the event honors Wine & Spirits' Top 100 "Wineries of the Year"—producers that delivered the best overall performances in the magazine's tastings conducted during the past twelve months.
In addition to the Wineries of the Year, W&S editors have selected the New & Notable Restaurants and Bars in the Bay Area, including 1601 Bar & Kitchen, A16 Rockridge, Aquitaine, Coqueta, Farm Shop Marin and Tribune Tavern. These new additions to the Bay Area culinary scene will serve bites of a signature dish paired with wines featured at the tasting. Guests will also enjoy specialties from local artisanal purveyors, including Hog Island Oysters, Kika's Treats, Mr. Espresso, Point Reyes Farmstead Cheese, Sour Flour Breads and Socola Chocolates.
The Grand Cru Sponsor for this milestone year will be Washington State Wine, with Premier Cru Sponsorship from Wine Australia. Additional event partners can be found at wineandspiritsmagazine.com/top100.
"Over the last ten years, the Top 100 has developed its own distinct DNA," says W&S editor & publisher Joshua Greene. "San Francisco is the center of the American wine world, and we have worked with SF Baykeeper to create a San Francisco event like no other. It's a great night for anyone who's felt the buzz on the fourth floor balcony overlooking Buena Vista Park and the downtown skyline, tasting the best bubbles from the States and Champagne, downing local oysters from Hog Island and meeting up with friends. It's a chance to talk with the winemakers and taste the wines that have come out on top in our blind tasting of more than 12,500 new releases. And we're excited to present the chefs and enjoy the food from our New & Notable Restaurants of 2013."
The Top 100 Wineries of the Year will be featured in the Winter Issue of Wine & Spirits, to be unveiled at the Top 100 event. In keeping with W&S Magazine's mission to raise awareness of water conservation issues, proceeds from the event will benefit San Francisco Baykeeper (http://baykeeper.org/).
For a preview of the 2013 Top 100 Wineries of the Year the official list of honored wineries was released today at wineandspiritsmagazine.com/top100 and is also available in the attached announcement.
W&S Magazine Top 100 Tasting
Date: Tuesday, October 15, 2013
Time: 6:30 to 8:30 p.m.; VIP ticket holders admitted early at 5:30 p.m.
Trade and Media Preview: 4:30 to 6:30 p.m.
Location: City View at METREON, San Francisco
135 Fourth Street, 4th fl., San Francisco, CA 94103
Admission: Tickets available for purchase at wineandspiritsmagazine.com/top100 for $105. A limited number of VIP tickets are available for $150.
###
Founded in 1982, Wine & Spirits Magazine is published eight times a year and read by over 200,000 members of America's wine community. Consumers and wine professionals read the magazine for information on established and up-and-coming regions and producers, the art and science of viticulture, restaurant and industry happenings, and food and wine pairing. Leading the wine magazine category, Wine & Spirits has earned the most James Beard awards for excellence in wine writing. Visit wineandspiritsmagazine.com for more information.
Since 1989, Baykeeper has been the pollution watchdog for San Francisco Bay, an advocate for clean water, which is critical to the Bay Area as well as to the wine industry. The Top 100 event raises money and awareness for SF Baykeeper, helping to protect water resources and support initiatives to fight water pollution. Wine is 80 percent water, so in a sense, concern for water purity and conservation is just self-preservation for wine drinkers. Visit baykeeper.org for more information.