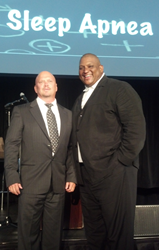 Phoenix, AZ (PRWEB) September 18, 2013
Sleep disorders act no differently towards superstar athletes as they do with any other human being. Roy Green, former Arizona Cardinals All Pro WR, has experienced two strokes and two heart attacks due largely in part to sleep apnea. Roy said, "If I had met David Gergen years ago, I wouldn't have had to experience having a heart attack, let alone two heart attacks and strokes. I am extremely grateful for what he's done for me and my former teammates and I'm glad to be a part of spreading awareness on sleep apnea so others don't have to go through what I did." Since David Gergen, President of Pro Player Health Alliance, has launched his "Tackling Sleep Apnea" campaign he has gotten over 160 former professional athletes treated by the best doctors in the country.
Once a center for Troy Aikman of the Super Bowl Champion Dallas Cowboys and a former Cardinals player as well, Derek Kennard has long struggled with his weight and lack of energy during the day. Not knowing what sleep deprivation could do to his body, he tried many forms of dieting and exercise plans without any success. After learning more about the sleep disorder some know as the "Silent Killer", Derek soon realized that it had been affecting him longer than he'd realized as well as his family members. "My brother passed away in his sleep from the effects of this disorder. Had we been on the offense when my brother had sleep apnea, he would still be alive today," says Kennard. Derek says he has lost over 150 pounds since being treated for sleep apnea.
Mark Walczak, former Arizona Cardinals and San Diego Chargers TE said, "I heard about the campaign and wanted to become involved in efforts to get the word out about what sleep apnea can do to you. I lost my best friend Junior Seau from the effects of this condition and I am trying to spread awareness to save lives." Although Mark currently lives in Arizona, he is heavily involved in the California communities and remains in contact with Junior's family.
Roy, Derek and Mark each choose to wear an oral appliance manufactured by Gergen's Orthodontic Lab ,known as the Sleep Herbst, as there solution to sleep apnea. They are planning on sharing their story at the next Pro Player Health Alliance event that will be in New York this winter. Mark Walczak said, "We have an unofficial date of December 5, 2013 for our next event which will be in New York. Once we have finalized everything, we will be able to confirm the date and begin promoting the event."
To learn more about Pro Player Health Alliance and the "Tackle Sleep Apnea" campaign, visit http://www.proplayersleep.com/.
To learn more about the oral appliance that NFL legends trust to maintain their health with, visit http://gergensortho.com/.
About Pro Player Health Alliance
Pro Player Health Alliance (PPHA) is an organization dedicated to helping former NFL players and the public through providing testing and treatment options for those who suffer from sleep apnea. In addition, the PPHA is dedicated to integrating education and raising awareness, in a fun and memorable way. The PPHA was created by David Gergen.
About David Gergen
As President of Pro Player Health Alliance, he has been a nationally respected dental lab technician for over 25 years. He received the award for "The Finest Orthodontic Technician in the Country" given by Columbus Dental in 1986. He also has been appointed chair of the dental wing of the American Sleep and Breathing Academy, a national interdisciplinary academy dedicated to sleep training and education with over 60,000 members. He has worked for some of the pioneers in the orthodontic and sleep dentistry fields. One of his proudest achievements is receiving The National Leadership award for Arizona Small Businessman of the Year in 2004.