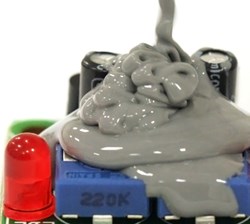 "R-2165 is the latest addition to NuSil's diverse portfolio of silicones designed for potting and encapsulating components in need of a high level of protection," said Bob Umland, Marketing & Sales director, Electronics & Engineering
Carpinteria, California (PRWEB) September 26, 2013
NuSil Technology LLC (http://www.nusil.com), the global leader in silicone materials for the medical implants, aerospace, electronics and engineering markets, introduces R-2165, the newest robust silicone solution for the protection of electronic components and systems such as sensors, relays, and connectors. R-2165 was inspired by market growth in applications in which silicone is desired due to its excellent ability to perform at elevated temperatures. R-2165 is gray in color, pourable, and exhibits moderate thermal conductivity of 0.6 W/mK. Similar to its portfolio affiliates for this class of materials, it uses platinum addition cure chemistry, offering minimal shrinkage, no cure by-products, and a cure time that can be accelerated with heat.
R-2165 now joins NuSil's group of versatile silicone materials for potting and encapsulating that vary in appearance and thermal conductivity yet cure at room temperature. These include R-2614, a transparent electronic encapsulant; R-2175; a black, conformal potting compound; R-2188, a translucent, highly insulative adhesive/encapsulant; and EPM1-2493, a white, thermally conductive adhesive/encapsulant. All of these materials are pourable, easy to process, and proven to increase the operation life of electrical components in harsh environments.
"R-2165 is the latest addition to NuSil's diverse portfolio of silicones designed for potting and encapsulating components in need of the high level of power required by many of today's applications, such as data centers and faster data transfer in general," said Bob Umland, Marketing & Sales Director, Electronics and Engineering. "Our commitment to continuous growth means that we understand the many challenges engineers face and that we strive to ensure they have choices in silicone materials that can handle the harsh environments electronic components must withstand in today's environments."
For more information, please contact NuSil at +1 805-684-8780, or visit http://www.nusil.com/products/engineering/.
###
About NuSil Technology LLC
NuSil is a leading manufacturer of silicone compounds for the medical implants, healthcare, aerospace & defense, electronics & engineering and skin care markets for applications requiring precise, predictable materials performance. ISO 9001-certified since 1994, NuSil operates state-of-the-art laboratories and processing facilities in North America and provides on-site, in-person application engineering support worldwide. More information about NuSil Technology LLC can be found at http://www.nusil.com.