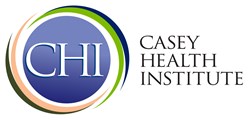 Our emphasis at Casey Health is to foster well being by helping patients become and stay healthy.
Gaithersburg, MD (PRWEB) September 19, 2013
Casey Health Institute, a new state-of-the-art integrative primary care and wellness center in the Washington, D.C. suburb of Gaithersburg, Md., unveils its new model of healthcare with a grand opening weekend on October 4-5.
Through the generosity of the Eugene B. Casey Foundation, the public non-profit Casey Health Institute & Wellness Center offers an innovative approach to better healthcare by bringing together primary care physicians and a wide range of complementary health professionals under one roof, working together as a team to treat the whole person.
"Our emphasis at Casey Health is to foster well being by helping patients become and stay healthy," said David Fogel, MD, CEO and co-founder of Casey Health Institute. "We are very proud of the team we've built here and the work that we're doing. We look forward to welcoming the community to our grand opening weekend, so they can experience firsthand our team-based, patient-centered approach that penetrates all levels of the organization."
Join Casey Health on October 4 for a ribbon-cutting event at 9:30 a.m. followed by a facility tour and reception. A community open house will take place October 5 and feature a special presentation by John Schumacher, a nationally recognized senior teacher in Iyengar yoga and founder and director of Unity Woods Yoga Studio. Schumacher will address a topic that plays a central role at Casey Health to support patient's health and wellness, "The Therapeutic Aspects of Iyengar Yoga." Schumacher, who supervises the yoga instructors teaching at Casey Health, will review research that shows how yoga provides benefits for patients dealing with conditions such as diabetes, heart disease and high blood pressure.
The community open house will also include free healthy lifestyle workshops and demonstrations throughout the day. All-day classes include family yoga and hip flexibility and the health and wellness workshops will cover such topics as Stress Management for the Commuter, The Delight of Probiotics, The Wonderful World of Acupuncture, Good Pain? Bad Pain?, The Mind-Body Connection and Keeping it Healthy, The Pillars of Healthy Living, and Integrative Primary Care – What's That?
Casey Health is leading a paradigm shift within the healthcare industry – one that moves from "treating disease" toward "making people healthy." Together physicians, nurse practitioners, naturopaths, acupuncturists, chiropractors, nutritionists, therapeutic yoga practitioners, psychotherapists, massage therapists, and mind-body medicine practitioners work with patients and their families to devise individualized health plans for each person's particular circumstances and goals so they can achieve optimal health.
Casey Health Institute and Wellness Center is located at 800 South Frederick Avenue, Gaithersburg, MD 20877.
For more information on the grand opening celebration, visit http://www.caseyhealth.org/grandopening/. RSVP to the weekend by calling 301-355-2023 or email GrandOpening(at)caseyhealth(dot)org.
About Casey Health Institute
Funded through a grant from The Eugene B. Casey Foundation, the Casey Health Institute is a new integrative primary care center located in Gaithersburg, Maryland. Offering an enlightened approach that centers on the unique health needs of every person, Casey Health Institute's team of integrative practitioners partner with patients and their families to devise care plans that fit individual needs given each person's particular life circumstances, then helps them monitor progress. Casey Health Institute believes that integrative primary care, preventive medicine and wellness programs, healthy lifestyle, nutrition counseling, patient navigation and wellness coaching in the context of a team based Patient Centered Medical Home are the wave of the future for healthcare.
For more information, visit http://www.caseyhealth.org.