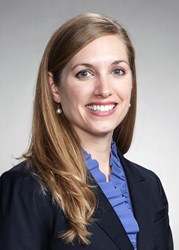 Denver, CO (PRWEB) September 19, 2013
Holland & Hart LLP is pleased to announce the addition of Kate Kalanick to the firm's Business, Corporate and Finance and Securities and Capital Markets practices. She is based out of the firm's Denver office.
Kalanick counsels clients on a variety of corporate matters, including assistance with mergers and acquisitions, securities regulation, financing and corporate governance.
She assists companies with securities offerings, private placements and mergers and acquisitions. Kalanick also has experience drafting 1934 Securities Exchange Act filings, including current, quarterly and annual reports, as well as proxy statements.
She is a member of the Denver and Colorado Bar Associations.
She holds a J.D. from the University of Minnesota School of Law and a B.A. from Boston College.
About Holland & Hart
Holland & Hart LLP delivers integrated legal solutions to regional, national and international clients of all sizes.
Since its inception in 1947, Holland & Hart's more than 440 lawyers have consistently been recognized by leading national and international peer and industry review organizations for innovation and dedication to the practice of law.
For more information, visit http://www.hollandhart.com.