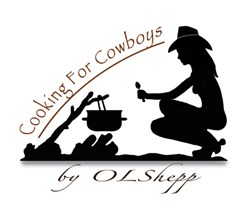 Civilized man cannot live without cooks.
Yellowstone Park (PRWEB) September 20, 2013
O.L. Shepp's upcoming cookbook of short stories, family recipes and western humor "Cooking For The Health Of It" is about cooking for all the right reasons.
Cooking is primarily to feed hungry tummies. Cooking is nourishment. A good meal is often the only preventive medicine that cowboys and cowgirls will take time for. Yet, cowboys spend as little time as possible in the kitchen.
The basic foundation of cooking is nourishment, because nourishment is the fundamental purpose of cooking.
However, a woman's place is no longer in the kitchen, yet there still must be adequate nourishment for active lifestyles provided.
O.L. Shepp describes in her upcoming cookbook as an age-old approach to new health concerns; promoting healthy nutrition, discouraging dieting or starving one's body of adequate nutrients and encouraging recipe and kitchen preparedness.
Cooking for The Health Of It; Seven Steps to Cowboy Up Your Cooking, will help all cooks, chefs and caregivers to cook healthier meals so that loved ones are completely nourished.
Cowboys and cowgirls never take up the habit of starving the body of adequate nutrients by choice. Good food and happy tummies are a "cowboys" preventive medicine. Cowboys like to eat, and will come in from a busy day for a good meal.
O.L. Shepp's cookbook, Cooking For The Health Of It, is a tribute to all cooks across the globe who bring families together to then send them forth to take on life armed with good wholesome food we can conquer the universe.
We may live without Poetry, music and art
We may live without conscience, and live without heart,
We may live without friends, and live without books
But civilized man cannot live without cooks.
Trinity Guild -1955
O.L. Shepp's Seven Steps To Cowboy Up Your Cooking provides simple cooking and easy healthy recipes from the open prairie, the chuck wagon and her own kitchen, because often a good meal is the only preventive medicine cowboys an cowgirls will take time for.
Sign up now and be the first to know of the release of O.L. Shepp's new Cookbook here.