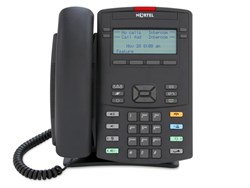 We have built our reputation by providing our corporate clients with a reliable source for wholesale Avaya and Nortel telecom products.
Niagara Falls, NY (PRWEB) September 19, 2013
A long time online wholesale supplier of Nortel and Avaya enterprise phone systems, telephones, and accessories, Telephone Magic Inc., now provides a quick and convenient portal for sourcing replacement Nortel and Avaya 1200 series IP phones and accessories at wholesale prices. Government agencies, military bases, hospitals, educational institutions and Fortune 500 companies are the main users of these VoIP telephones for Avaya Nortel BCM, Communications Server and legacy Nortel Meridian PBX phone systems.
The Avaya Nortel IP phone 1200 series is an innovative portfolio of IP Phones which include multiple softkeys, integrated speakerphone, advanced audio-quality technology for crystal clear conversations, headset support and an integrated Ethernet switch for single desktop wiring. The phone sets can also be easily customized for advanced users.
The Avaya Nortel IP phones 1200 series features VoIP telephones that were originally manufactured by Nortel and have now been produced with the Avaya branding for a number of years. This has kept a steady supply of newer VoIP phones for Avaya/Nortel BCM and Communication Server CS 1000 and CS 2100 platforms. New or refurbished, these IP phones represent a great VoIP value for existing Nortel or Avaya phone system users.
"Our clients all have one thing in common - they need cost-effective IP telephony solutions, especially when they are expanding their current Avaya or Nortel systems for IP communications" says Jeff Jackson, President of Telephone Magic Inc. "We have built our reputation by providing our corporate clients with a reliable source for wholesale Avaya and Nortel telecom products. That's why we continue to be a go-to supplier for various branches of the government, call centers, hospitals and educational facilities worldwide."
"We receive requests for hundreds of Avaya and Nortel IP phones through our Toll-Free number or Express Quote website feature," Jackson continued. "These range from large institutions to small and medium sized businesses that are expanding or replacing BCM phones or adding VoIP telephones to their systems for the first time. By selling at wholesale prices, we are offering our enterprise and small business clients the same savings when compared to what they paid their local contractors in the past. Purchasing direct from a wholesale distributor like Telephone Magic is a significant financial benefit to these customers."
The Avaya Nortel 1220 IP phone comes pre-programmed with key features used by today's businesses. The 1220 IP Phone is an intermediate-level desktop VoIP telephone that comes with four soft keys and six shortcut keys and is ideally positioned for office workers with moderate call activity.
Other models in the series include the Avaya Nortel 1210 IP phone which also comes with pre-programmed feature keys. The 1210 IP Phone is a single line standard-level desktop for basic communication needs. A great choice for lobbies, lunch rooms or other common areas.
The most robust model of the 1200 IP phone series is the Avaya Nortel 1230 IP phone. This telephone is a premium-intermediate deskset that has 10 programmable soft keys. The Nortel Avaya 1230 IP phone is best suited for power users with advanced communication needs such as managers, knowledge workers and administrative assistants.
The Avaya Nortel 1200 IP Key Expansion Modules - either the 12 Key LCD KEM or 18 Key LED KEM - can be added to either the IP 1220 Phone and 1230 IP Phone. The Nortel Avaya LCD KEM is a 12-Key programmable, self labeling Liquid Crystal Display Expansion Module. Up to 7 Nortel 12 Key LCD Expansion Modules can be added to any compatible 1200 series IP phone. The Nortel Avaya LED KEM is an 18-Key programmable Light Emitting Diode version Key Expansion Module, equipped with paper label. Up to 2 Nortel 18 Key LED Expansion Modules can be added to any compatible 1200 series IP phone.
All of the IP phones in the Avaya Nortel 1200 series support 802.3af standards-based Power over Ethernet (PoE) and also have a port for local AC power via the AC Power Supply for Nortel Avaya IP 1200 phones. For further information visit Telephone Magic's industry-leading telecommunications equipment website or call toll-free 1-855-929-9199.