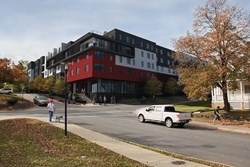 The best of these [amenities] is a location only steps away from the campus, a quick walk to downtown or Dickson Street, and on-site, covered parking.
Birmingham, AL (PRWEB) September 23, 2013
Capstone Development Partners (Capstone) is partnering with Specialized Real Estate Group (SREG) to develop an apartment complex marketed towards University of Arkansas students. The new housing community is on schedule to be completed and occupied in Summer 2014, and will be home for approximately 470 students.
Located on the south side of West Center Street between Duncan and Harmon Avenues, the 5-story apartment facility wrapped around an embedded parking deck will offer students modern style and green living within a 3 minute walk to the campus core. The amenities of the $35 Million project include an infinity-edge swimming pool, clubhouse, and rooftop sun terrace with views of the campus and Boston Mountains.
"The Cardinal is immediately adjacent to the University's main classroom areas," said Jeremy Hudson, SREG CEO. "Truly, students can't live closer to class."
The project is not only registered for LEED green building certification, but it is also a bird-friendly community. Working with the recommendations of the American Bird Conservancy, The Cardinal's bird-friendly features include reduced glazing overall, patterned appliques on ground level glass, and approved lighting systems as well as carefully chosen native plants. These measures are intended to prevent bird collisions, eliminate light pollution that can distract migrating birds, and provide forage and habitat.
Jeff Jones, CDP Principal, said, "The Cardinal will provide state-of-the art apartment housing with the amenities UA students love. The best of these is a location only steps away from the campus, a quick walk to downtown or Dickson Street, and on-site, covered parking. Capstone has developed over 100 student residential communities over the past 23 years. We are known for delivering our projects on time and at a level of quality students appreciate."
The Cardinal at West Center is now leasing for Fall 2014. Interested students can apply and view interior and exterior renderings at The Cardinal's official website, http://www.uacardinal.com or at the project's leasing office. The Cardinal's leasing office is located at 4 S. Duncan Avenue, immediately across the street from the site of The Cardinal. A ribbon cutting and open house for the leasing office is scheduled for Thursday, September 26.
About Capstone Development Partners
Capstone Development Partners, LLC is a Birmingham, Alabama based student-housing developer with over 20 years of experience and leadership in the student housing market niche, specializing in the development of on-campus and campus-edge student housing, mostly through Public Private Partnerships. For more information please contact Jeff Jones at (205) 949-5060. Visit http://www.capdevpartners.com.
About Specialized Real Estate Group
Fayetteville, Arkansas based Specialized Real Estate Group is Arkansas' leading developer of LEED certified multifamily properties. SREG has been honored by the US Green Building Council and Urban Land Institute for walkable infill development. For more information, please contact Jeremy Hudson at (479) 439-8655.
The American Bird Conservancy's recommendations for bird friendly design are available online: http://www.abcbirds.org/collisions/.