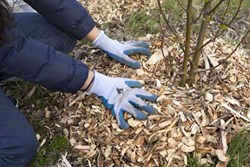 Toronto, ON (PRWEB) September 24, 2013
Evergreen is pleased to announce the 2013 recipients of Canon's Take Root Program. Throughout the fall, 30 community groups and volunteers across Canada will restore local green spaces and steward tree-planting events.
Canon's Take Root Program, presented by Evergreen, provides a $5,000 grant and a Canon PowerShot digital camera to 30 community groups in Canada. In its second year of a three-year partnership, the program supports community action across the country and adds more than 7,500 trees to Canadian towns, cities and green spaces annually.
"We are excited for the opportunity to engage community members in taking action and learning about nature in their neighborhood," says David Foster, Urban Biodiversity Coordinator and volunteer with the Sierra Club Canada - Atlantic Canada Chapter and Take Root grant recipient. "The funds from Evergreen and Canon Canada not only help us create a hands-on experience for learning about nature, but foster a long-term connection to the green spaces that bring our communities together."
Some of the community projects from the 2013 grant program include:

Sierra Club Canada, Atlantic Canada Chapter- Halifax, NS: A grassroots organization that empowers Atlantic Canadians to protect and restore the planet through education and political advocacy. The Halifax Regional Municipality Diversity Project will restore degraded landscape at Hemlock Ravine Park with native tree-plantings, as well as empower local volunteers to become familiar with the diversity of plants and animals found in their neighbourhoods.
Nuu-chah-nuluth/West Coast Vancouver Island Aquatic Management Society – Port Alberni, BC: A forum for individuals and organizations to participate in the integrated management of aquatic resources on the West Coast of Vancouver Island. The Dry Creek Restoration Project will engage local students in invasive-species removal and native tree-planting to improve water quality and fish survival rates in Dry Creek Park, where there is a long history of droughts.
Manitoba Horse Council Inc. – Winnipeg, MB: A not-for-profit representing equine activity in Manitoba. Partnered with the Invasive Species Council of Manitoba, The Birds Hill Equestrian Site Tree-Planting project provides opportunities for members of the equestrian community to increase their environmental awareness and improve their site through hands-on stewardship and restoration. The native vegetation will create a windbreak, buffer sound and increase shade for spectators.
Huron Stewardship Council – Goderich, ON: A community-based organization that supports responsible resource stewardship in the Huron County community. The Huronview Wetland Planting project is a part of the Trees Beyond Goderich project, which works to restore tornado-damaged woodlots. Local students will plant an additional 250 trees to the over 4,000 that have been planted to date. These efforts will improve water quality and enhance wildlife habitat.
Conseil régional de l'environnement Mauricie – Trois-Rivières, QC: Established in 1995, works collaboratively with community groups, environmental organizations, businesses and institutions to improve environmental sustainability in the community. The Poumon forestier de Sainte-Marguerite project will transform an abandoned area into an urban forest to improve air quality, increase wildlife habitat and increase public awareness of biodiversity of six regional county municipalities in central Quebec.
For the full list of grant recipients or to find about a tree-planting event in your community, please visit us online.
About Evergreen:
Evergreen is a national not-for-profit organization that makes cities more livable. By deepening the connection between people and nature, and empowering Canadians to take a hands-on approach to their urban environments, Evergreen is improving the health of our cities—now and for the future. In 2012, Evergreen, with the support of its various donors and sponsors, will be providing more than $905,000 in grants to community and school greening projects. For more information visit http://www.evergreen.ca.
About Canon Canada Inc.:
Headquartered in Mississauga, Ontario, Canon Canada Inc., a wholly owned subsidiary of Canon USA celebrating its 40th anniversary, is a leading provider of consumer, business-to-business and medical digital imaging solutions. Innovation and cutting-edge technology have been essential ingredients in Canon's success. With almost $46 billion in global revenue, its parent company, Canon Inc., ranks among the Top 4 in US patents registered since 1994. Canon ranks among the world's Top 30 brands and is one of Forbes' Magazine's World's Most Admired Companies. Canon Canada Inc. is committed to the highest level of customer satisfaction and loyalty, providing 100 per cent Canadian-based service and support for all of the products it distributes. Canon Canada Inc. is dedicated to its Kyosei philosophy of social and environmental responsibility.