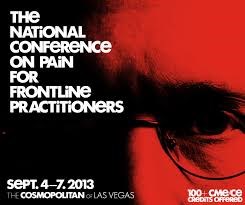 The only company who has presented clinical research on this important issue at the American Pain Society, American Society of Addiction Medicine, and other major scientific meetings on pain management all year. - Brian Meshkin, CEO, Proove Biosciences
Irvine, CA (PRWEB) September 19, 2013
Proove Biosciences, Inc., the leading personalized pain medicine laboratory, was the only company to present clinical research on the genetics of pain medicine at PAINWeek, the nation's largest pain conference for frontline clinicians with an interest in pain management. Proove researchers were selected by PAINWeek's peer-review process to present two scientific posters from its industry-leading research. Additionally, one of the Company's Medical Advisors presented a continuing medical education (CME) class. The four-day event took place September 4-7 at the Cosmopolitan in Las Vegas.
During the poster session, Proove researchers presented preliminary findings from two studies: "Retrospective Analysis of the Clinical and Economic Results (R.A.C.E.R.) of Genotyping Chronic Pain Patients to Guide Medical Detoxification of Prescription Opioid Analgesic Abuse (RxO): Two-Year Study" and "Observational Study to Calculate Addictive Risk to Narcotics Due to Genetic Predisposition in chronic pain patients (O.S.C.A.R.)."
"Proove is a research-driven laboratory committed to realizing the potential of personalized pain medicine," states Brian Meshkin, CEO and founder of Proove Biosciences. "We stand at the forefront of pain medicine genetics, as the only company to present clinical research on the genetics of pain medicine at PAINWeek, as well as the only company who has presented clinical research on this important issue at the American Pain Society, American Society of Addiction Medicine, and other major scientific meetings on pain management all year."
PAINWeek also designated Friday, September 6, as Opioid Safety Day, and featured multiple course offerings, symposia, and special sessions for pain management professionals on the latest opioid prescribing practices, and the increasingly stringent regulatory environment. On this special day, Proove Medical Advisory Board member, Dr. Sandford M. Silverman, delivered a continuing medical education course entitled, "Fundamentals of Pain and Addiction".
In addition to presenting preliminary findings from the R.A.C.E.R. and O.S.C.A.R. studies, Proove also had a booth in the exhibit hall to engage the over 1800 physicians, nurse practitioners, pharmacists, hospitals, psychologists, and pain management professionals who attended the conference with more information on its proprietary genetic testing to improve patient care.
Meshkin explained, "Proove is excited to have shared our industry leading genetic testing and practice-based evidence on personalized pain medicine to PAINWeek's diverse, multidisciplinary faculty and attendees. We are deeply committed to addressing the epidemic of prescription pain medication misuse by expanding access to our proprietary testing. It's an honor to collaborate with well-respected physicians like Sandy Silverman, the President of the Florida Society of Interventional Pain Physicians on this critical issue facing physicians, patients, insurers, and our community as a whole."
About Proove Biosciences
Proove Biosciences is the leading Personalized Pain Medicine laboratory that provides proprietary genetic testing services to help physicians improve outcomes for patients and contain costs for insurers. With offices in Southern California and the Baltimore-Washington metropolitan area, the Company is the research leader investigating and publishing data on the genetics of pain medicine with clinical research sites across the United States. Physicians use Proove Biosciences testing to improve pain medicine selection, dosing, and evaluation of medications they prescribe. From a simple cheek swab collected in the office, Proove performs proprietary genetic tests in its CLIA-certified laboratory to identify patients at risk for misuse of prescription pain medications and evaluate their metabolism of medications. For more information, please visit http://www.proovebio.com or call toll free 855-PROOVE-BIO (855-776-6832).