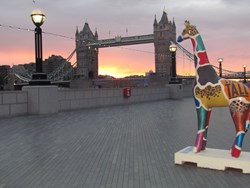 (PRWEB UK) 20 September 2013
The Wyncolls Road auctioneer has sponsored the sale of the 2.5m giraffes, which were created under the Stand Tall for Giraffes banner to mark the 50th anniversary of Colchester Zoo. The 30 sculptures were on display around the streets, parks and open spaces of the town for 12 weeks from the start of June, each painted in its own distinctive style.
15 of the giraffes have just enjoyed a week together on the banks of the River Thames in London before they are now auctioned off to raise money for Colchester Zoo's charity Action For The Wild at firstsite in Colchester on September 19.
Colchester Zoo Director Anthony Tropeano said: "We're delighted that Reeman Dansie have agreed to auction the giraffes on our behalf. They are highly respected in the field and we have no doubt that they will help raise lots of money for our charity."
Since Action For The Wild achieved charitable status in 2004, over £700,000 has been donated to a broad spectrum of conservation projects worldwide. A huge range of species benefits from the charity including orangutans, vultures, pygmy hippos, komodo dragons and elephants. Action for the Wild also has its own nature reserve in South Africa.
James Grinter from Reeman Dansie said: "We're extremely pleased that we can support Colchester Zoo's 50th anniversary by sponsoring the auction of the Stand Tall giraffes, especially as it means money will be raised for charity at the same time."
Stand Tall for Giraffes has been run in partnership with art event specialist Wild in Art which has successfully staged similar events in other parts of the UK as well as in Europe and Africa. Event sponsors include Williams and Griffin, McDonalds, Marks and Spencer and firstsite.
Each giraffe is expected to raise between £2,000 and £7,000 and 2 special 1.3 metre commissions including one signed by David Attenborough and the other by members of the Dr Who's are expected raise even more!
Essex Audi are the presenting sponsor for the event. Steve Doble, Head of Business from Essex Audi said: "We're very proud to be supporting the Stand Tall auction in aid of Action for the Wild. The charity does amazing work for conservation projects around the world and we're sure a huge amount of money will be raised through the sale of these amazing sculptures."
For more information about Stand Tall for Giraffes, to book tickets for the auction, or for more information on telephone and proxy-bidding, please visit http://www.colchester-zoo.com/standtall.
-ends-
Notes to Editors

Constantly evolving, Colchester Zoo is an award winning wildlife attraction which stretches over 60 acres in the heart of the Essex countryside. It has nearly 300 species in modern, naturalistic enclosures; many are which are part of vital international breeding programmes. In 2013, Colchester Zoo celebrates its 50th anniversary with "Stand Tall for Giraffes" a mass appeal, large-scale public art event which culminates in a high profile auction for its charity Action For The Wild. The funds raised will help to assist conservation projects all over the world including the charity's UmPhafa Reserve in South Africa.http://www.colchester-zoo.com/standtall
Wild in Art is the UK's leading arts and education company, bringing the creativity and enjoyment of public art to thousands of people through its high profile and popular events. Working with host partners, artists, communities and schools together with public and private sector organisations, Wild in Art produces mass participation events that animate cities and towns around the UK and beyond.Through inspiring partnerships, Wild in Art events bring immense pride to communities while offering extraordinary social and economic benefits as thousands of residents and tourists alike discover the wonderful world of creativity in a truly memorable shared experience. Conservation and citizenship are at the heart of Wild in Art's education work which includes the provision of unique art education resources which engage young people to unleash their creative talent, and enhance learning across the curriculum. Find out more at http://www.wildinart.co.uk
Media enquiries (including requests for hi-res images):
KAT Marketing
Katie Skingle
Email: katie(at)katmarketing(dot)co(dot)uk
Tel: +44 (0) 1206 765544 Mob: +44 (0)7786 165656