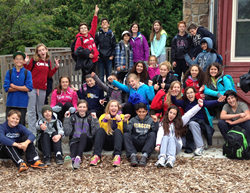 Outdoor Education in the Fall is a fantastic way to start the school year off on the right foot.
Aurora, Ontario (PRWEB) September 20, 2013
For many people, the idea of summer camp ends when the kids are back in school. However, for camps like Kettleby Valley, the autumn represents a time to gear up for another busy Outdoor Education season. Throughout September and October, school groups as young as grade 4 visit the camp for leadership and team building opportunities. Activities like climbing walls and ropes courses are used to create a culture of trust and cooperation within the class.
Many schools plan field trips in the spring to celebrate the end of the year. However Peter Truman, the Director of Kettleby Valley says that there are many reasons to plan a trip to a camp in the autumn. "Teachers love the chance to get to see their students in a different setting. It also represents an opportunity to set the ground rules for how the class is going to conduct themselves throughout the year as a group. Outdoor Education in the Fall is a fantastic way to start the school year off on the right foot."
Teachers see Kettleby Valley as a great option for their class trip for many reasons. Transportation costs are kept on budget because the camp is located so close to Toronto, Ontario. Kettleby Valley also offers both day and overnight programs. Finally, the program at Kettleby Valley is customized to suit the qualities and characteristics of each group.
The start of a new year is always very busy at schools. However, the teachers who choose to plan for an outdoor education trip at an Ontario summer camp like Kettleby Valley stand to gain a great deal from the experience.
Kettleby Valley is an Ontario summer camp and outdoor education centre located north of Toronto. They provide both day camps and residential overnight camps to families all over York Region. Families from Aurora and Newmarket have made Kettleby Valley their choice for years. For more information, please contact the camp at 905-726-4275 or go to their website.