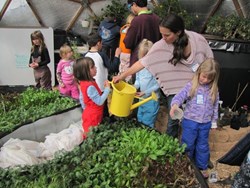 Fighting childhood obesity is one of the long term goals.
Telluride, Colorado (PRWEB) September 19, 2013
The Fairmont Heritage Place, Franz Klammer Lodge has announced that it will be partnering with EcoAction Partners and Telluride Schools to coordinate Grow Dome Volunteer Week. The volunteer week will provide an opportunity for guests of the Telluride luxury lodge, colleagues and the public to lend a hand at the local indoor garden and get involved in the community. The Grow Dome Volunteer Week will be held September 22-29, 2013 with flexible volunteer hours coordinated through the Fairmont Heritage Place, Franz Klammer Lodge. The effort is part of Fairmont's Community Connections Month.
The Grow Dome is located behind the Telluride Middle & High School and provides healthy, homegrown ingredients that are used in school lunches and sold at the Telluride Farmer's Market. Volunteers will help with watering, weeding, planting and harvesting. Volunteers at the garden will have the opportunity to impact local students directly.
"I would say [the goal is] to make sure that every student has an opportunity to be in the dome, learn in the dome, eat delicious food grown in the dome and understand how food is grown and how delicious fresh, organic, just-picked produce can be and how import that is to our health," said Kris Holstrom the Executive Director & Sustainability Coordinator with EcoAction Partners.
The Grow Dome was funded by the Carol M. White Physical Education Program (PEP), a U.S. Department of Education initiative to promote healthy active lifestyles for kids nationwide. The grant was given to the Telluride Medical Center, which collaborated with EcoAction Partners, Southwest Institute for Resilience, Telluride School District and Ramona Gaylord on the opening of the Grow Dome.
"Fighting childhood obesity is one of the long term goals. Another goal is to have the dome be a self-sufficient program so that the food and plants grown can pay for the operating, maintenance and management of the dome," explained Holstrom.
To volunteer, contact Eve Donegan at 970-728-3318.
About Fairmont Hotels & Resorts
With more than 65 destinations around the globe, Fairmont Hotels & Resorts is a celebrated collection of landmark, luxury hotels. For more information or reservations, please call 1-800-441-1414 or visit farimont.com.