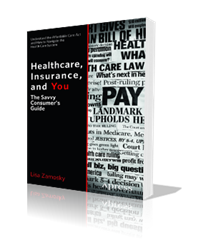 New York, NY (PRWEB) September 19, 2013
Getting good medical care shouldn't be so confusing—or so costly. "Healthcare, Insurance, and You: The Savvy Consumer's Guide," recently published by Apress Media, simplifies the many confusing details about our healthcare system and the Affordable Care Act so people can make informed decisions. Result? Better health at lower cost.
As healthcare expert Lisa Zamosky—columnist for the Los Angeles Times and WebMD—makes clear, the failure to understand how insurance and the healthcare system work can have a major impact on physical and financial health. The more people know about how healthcare is changing, the more they can maintain their peace of mind.
"Healthcare, Insurance, and You" is an easy-to-use guide that explains the main challenges people face when trying to get excellent healthcare: choosing the best insurance policy, finding the right doctor or hospital, buying prescription drugs the least expensive way, picking out the right Medicare plan, or fighting for their rights when dealing with insurers or medical providers. "Healthcare, Insurance, and You" includes tips, resources, and strategies for navigating the healthcare system and avoiding common mistakes. In short, readers will get the best healthcare for themselves, their family, and their employees without breaking the bank.
Healthcare costs rank high on the list of money concerns Americans have. And when it comes to getting great healthcare for themselves and their families while avoiding crippling medical bills, knowledge is power. "Healthcare, Insurance, and You" is a practical guide that explains the complicated healthcare system in plain language—and puts the power of good health back in the hands of citizens.
For more information on Healthcare, Insurance, and You," please visit http://www.apress.com/9781430249535.

ISBN 978-1-4302-4953-5
188 pages
User Level: Beginner to Advanced
Publication Date: August 28, 2013
Available eBook Formats : EPUB, MOBI, PDF
Print Book Price : $19.99
eBook Price: $13.99
About the Author
Lisa Zamosky is a healthcare journalist who has been writing about health insurance and how to access and pay for healthcare for more than 10 years. She is a consumer health care columnist for the Los Angeles Times, where her Healthcare Watch column appears in the Sunday business section. She writes WebMD's expert Health Reform 101 blog and is a correspondent for California Healthline and iHealthBeat, both news services of the California Healthcare Foundation. Her work has also been published in Reuters, MSNBC, Health.com, the Chicago Tribune, and the Baltimore Sun, among other publications.
About Apress Media
With more than 1,500 books in print and e-formats, Apress is the authoritative source for IT professionals, software developers, and business leaders all over the world. Apress provides high-quality, no-fluff content that helps serious technology professionals build a comprehensive pathway to career success. Since 2007, Apress has been part of Springer Science+Business Media, one of the world's leading scientific, technical, and medical publishing houses, enabling global distribution of Apress publications. For more information, please visit http://www.apress.com.