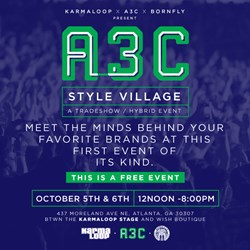 Atlanta, GA (PRWEB) September 19, 2013
Today, Global Streetwear E-Retailer Karmaloop has announced that the company will be a presenting sponsor and curator of the first 'Style Village' at the 9th Annual A3C Music Festival this October in Atlanta. The Style Village will be produced in conjunction with AC3 Style and Born Fly.
The Style Village, which is an expansion of A3C Style itself, will be located in the Little Five Points neighborhood of Atlanta between Wish Boutique, the number one streetwear retailer in the southeastern region, and the Star Community Bar, which will be renamed to the Karmaloop Stage for the duration of the festival.
The Style Village at AC3 will act as a tradeshow/vendor booth hybrid that allows festival attendees and merchandise buyers to interact with some of the top brands and upstarts in streetwear from across the country. Karmaloop, working closely with A3C Style, will help to curate brand activations, music, giveaways, and other attractions. Attendees will also be able to purchase and place orders from current collections.
To learn more about Karmaloop, please visit Karmaloop.com.