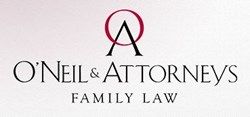 Dallas, TX (PRWEB) September 18, 2013
Dallas divorce law firm O'Neil & Attorneys has reached an important milestone—as of September 2013, the law firm has now been in existence for 10 years. The boutique law firm was founded by Michelle May O'Neil, a seasoned litigator who has 22 years of experience practicing family law in Texas, which includes 16 years practicing in Dallas. O'Neil & Attorneys has a team of Dallas divorce lawyers who are dedicated to protecting clients' best interests in their divorce proceedings and other family law matters.
O'Neil & Attorneys' legal team includes certified-family law specialists. Attorney O'Neil has been certified as a family law specialist by the Texas Board of Legal Specialization since 1997, and Attorney Katherine Lewis has received her family law board certification as well. The firm's attorneys serve as compassionate legal advisors to the individuals they represent while also serving as aggressive advocates on their behalf. The attorneys are not afraid to take on even the most difficult litigation matters. The law firm represents individuals who are dealing with many different family issues, whether they are filing for divorce, fighting for child custody, establishing pre-marital agreements, working to establish paternity issues, etc. Attorney O'Neil and her team are proud that the law firm has completed a decade of providing high-quality legal service to families in an around the Dallas area.
The lawyers at O'Neil & Attorneys have received a number of impressive accolades throughout their careers for the professional excellence they have exhibited in their field. Attorney O'Neil has been selected for inclusion in the 2011, 2012 and 2013 lists of Texas Super Lawyers®, an honor that is limited to only 5% of attorneys within each state. She has also been a Master member of the Annette Stewart Inn of Court (indicating a high level of legal professionalism) since 2003, and she has received an AV Preeminent® Rating by Martindale-Hubbell®, which is the peer-review rating offered by the organization. Attorneys Lewis and Ashley Bowline Russell are Barrister members of the Annette Stewart Inn of Court, and Ms. Russell has been chosen for the Texas Super Lawyers® Rising Stars™ list in 2011, 2012, and 2013. The Rising Stars™ list includes no more than 2.5% of attorneys age 40 and under throughout each state.
O'Neil & Attorneys encourages individuals to bring their divorce and family law cases to the firm, where they will receive the level of attention they deserve. The firm's lawyers believe in maintaining a steady flow of communication with their clients so that they can be kept up-to-date on the new developments occurring in their cases. The attorneys also put in the time and hard work that is needed to diligently strive for positive outcomes in the cases they handle. Additional information about the Dallas divorce law firm is available at http://www.oneilattorneys.com.