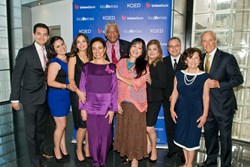 San Francisco, California (PRWEB) September 18, 2013
Union Bank, N.A., and KQED celebrated four members of the Bay Area community during the 18th Annual Local Heroes Awards at the Yerba Buena Center for the Arts in San Francisco on September 10, 2013. The following honorees were recognized for their leadership and dedication to the community:

Orson Aguilar, executive director of the Greenlining Institute
Rose Amador-Le Beau, president and CEO of Center for Training and Careers (CTC)
Stephanie Bravo, founder and president of StudentMentor.org and fellow of the National Hispana Leadership Institute
María Marroquin, executive director for the Day Worker Center of Mountain View
"The accomplishments of our honorees are exemplary, and the significant impact they have on not only our local communities but our country at large is admirable," said Union Bank Senior Executive Vice President Pierre P. Habis, head of Community Banking. "The local heroes are true leaders and they embody Union Bank's core values of giving back — we are proud to celebrate them during Latino Heritage Month and through the year."
The awards celebration was hosted by Amelia Morán Ceja of Ceja Vineyards and was attended by Bay Area business and community leaders. The event included stirring performances by Bomberas de la Bahia, Los Cenzontles and Sol Flamenco.
To view video profiles of each honoree and to get more information on the wide range of Latino Heritage programming KQED offers in September, or to nominate a future local hero, visit http://www.kqed.org/community/heritage/latino/. 2014 nominations are now open.
To learn more about the Local Heroes program, please visit unionbank.com/heroes.
About KQED
KQED serves the people of Northern California with a public-supported alternative to commercial media. Home to the most listened-to public radio station in the nation, one of the highest rated public television services and a leader in interactive technology, KQED takes people of all ages on journeys of exploration — exposing them to new people, places and ideas. Visit kqed.org for more information.
About UnionBanCal Corporation & Union Bank, N.A.
Headquartered in San Francisco, UnionBanCal Corporation is a financial holding company with assets of $102.3 billion at June 30, 2013. Its primary subsidiary, Union Bank, N.A., provides an array of financial services to individuals, small businesses, middle-market companies, and major corporations. The bank operated 422 branches in California, Washington, Oregon, Texas, Illinois, and New York as well as two international offices, on June 30, 2013. UnionBanCal Corporation is a wholly-owned subsidiary of The Bank of Tokyo-Mitsubishi UFJ, Ltd., which is a subsidiary of Mitsubishi UFJ Financial Group, Inc. In July 2013, American Banker Magazine and the Reputation Institute ranked Union Bank #1 for reputation among its customers. Visit http://www.unionbank.com for more information.
# # #
Picture: (L-R): Union Bank Vice President and Branch Manager Victor Vazquez; Claudia Paredes (accepting for honoree Orson Aguilar who was unable to attend); honoree Stephanie Bravo; honoree María Marroquin; Union Bank Executive Vice President Julius Robinson; honoree Rose Amador-Le Beau; Union Bank Vice President and Branch Manager Anita Flores; Union Bank Senior Vice President Juan Silvera; Amelia Morán Ceja who emceed the event; and KQED President and CEO John Boland.