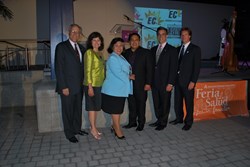 We have supported the Hispanic community for 25 years already, publishing easy to read editorials in Spanish and with different wellness programs to help our own employees.
Los Angeles, CA (PRWEB) September 19, 2013
Diabetes continues to be one of the main diseases plaguing the Hispanic community in the United States. For this reason, El Clasificado and the American Diabetes Association have brought together several prominent figures supporting the cause in an event called "Latino Leaders Against Diabetes" that raised awareness about this disease.
Among these leaders were Hector Barreto, former president of the Small Business Administration and president of The Latino Coalition, and Gloria Molina, member of the Los Angeles County Board of Supervisors, who joined other notable speakers at the Plaza de Cultura y Artes in downtown Los Angeles to share and explain key ways to fight diabetes.
"There are many communities in Los Angeles, such as South L.A., where the lack of supermarkets or green zones leads to a higher risk of diabetes in the future," explains Peter Braun, Executive Director of the American Diabetes Association. "Our goal is to show everyone that despite this, there are small changes in diets and lifestyles that can be made to prevent this disease and its mortal consequences."
In fact, according to Peter Braun, diabetes and other illnesses stemming from diabetes cost the state about 240 billion dollars a year. "This is something we need to change and we can only do so if the effort comes from every forefront."
Barreto stressed the fact that "diabetes affects everyone, from family to friends," and highlighted the fact that one in every seven people living in California suffers from diabetes and that it is an enormous cost to the healthcare system.
Agreeing with Barreto, Martha de la Torre and Joe Badame, founders of El Clasificado, EC Hispanic Media, and co-hosts of the event, emphasized the fact everyone in the community needed to be more proactive to stop this illness from growing. "We have supported the Hispanic community for 25 years already, publishing easy to read editorials in Spanish and with different wellness programs to help our own employees." said Martha de la Torre. "But, we realized we want to do more and that is why we actively participate in the American Diabetes Association's Tour de Cure and why we have organized this event, to call the leaders in our community to put a stop to diabetes."
Los Angeles County Supervisor Gloria Molina was more specific in stating that the number of cases in areas such as East Los Angeles, a community that is mainly Hispanic has increased by 180 percent, something that can be combated with better prevention programs and a healthy diet.
Sponsors of the "Latino Leaders Against Diabetes" event were El Clasificado, EC Hispanic Media, the American Diabetes Association and Feria de Salud. Renowned journalist from Univision 34 KMEX-TV Cecilia Bográn was the MC of the evening.
About El Clasificado
El Clasificado, an EC Hispanic Media company, is a multi-media publication and advertising solutions company with advertising platforms in print, online, and grassroots events. More than 1.5 million readers utilize the free Spanish-language publication every week. El Clasificado, a verified publication with a weekly circulation of 510,000, is distributed in over 300 cities throughout Southern California, the Central Valley, and now Yuma, Arizona. EC Hispanic Media also owns elclasificado.com, which generates 15 million monthly page views from over 800,000 unique visitors across the United States.