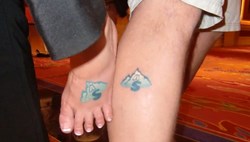 The conference will provide an individual sporting a new tattoo of the Affiliate Summit conference logo with an All Access pass to Affiliate Summit West 2014
Austin, TX (PRWEB) September 20, 2013
Affiliate Summit, the premier affiliate marketing convention and tradeshow, has launched a promotion to see whether a member of the Affiliate Summit community is interested in getting a tattoo of the conference logo.
The conference will provide an individual sporting a new tattoo of the Affiliate Summit conference logo with an All Access pass to Affiliate Summit West 2014; as well as coach air; 3 nights at the Paris Las Vegas; and dinner with Affiliate Summit co-founders, Missy Ward and Shawn Collins, on the night of Monday, January 13, 2014.
Get more details on the terms of the Affiliate Summit tattoo promotion.
This opportunity is open through November 30, 2013.
More details on Affiliate Summit West 2014 at http://www.affiliatesummit.com