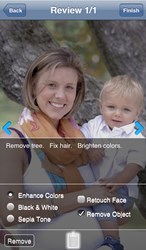 Our professional editors retouch your important photos, improve them and deliver them back to you so you only have to worry about catching that precious moment, we'll take care of the quality. - Eduardo Llach, CEO and Founder of Krome Photos.
San Francisco, CA (PRWEB) September 19, 2013
Krome Photos announces the first app to truly close the quality gap in mobile phone photography. The Krome Photos app connects iPhone photographers and their important mobile photos directly to retouching professionals with just a tap of the screen. Available today on iOS, Krome is offering $10 in free credits toward their unique retouching and printing products and services for a limited time.
Before today, snapshot photography had reached a tipping point with smartphone usage but the photo quality hadn't improved from the days of point-and-shoot cameras. Now, the Krome Photos app makes it easier than ever for anyone to spontaneously capture and preserve precious everyday moments with their phone because Krome's professional editors fix imperfections encountered when shooting on the move, such as the lighting, color saturation, focus, and resolution. Krome Photos editors can even improve a composition by carefully removing unwanted and distracting objects in the background.
Camera phone usage has reached an inflection point as the preferred point-and-shoot device for people to capture newborns, vacations, parties, reunions and other special moments. Point-and-shoot camera sales have been declining while smartphones have become ubiquitous, with over 380 million iPhones alone sold into the market. And while the quality of smartphone photos is inferior, the truth is, the best camera for many people is simply the one they always have with them.
"In a recent study with smartphone users we discovered that 58% of these customers took photos exclusively with their smartphone, compared to just 37% of the respondents who did so in a similar study just 18 months ago," stated Hans Hartman from Suite 48 Analytics.
"Our professional editors retouch your important photos, improve them and deliver them back to you so you only have to worry about catching that precious moment, we'll take care of the quality," offered Eduardo Llach, CEO and Founder of Krome Photos. "We ensure you don't have to settle for 'good enough,' making sure your keepsake photos look their very best for sharing, gifting and printing. Krome not only saves you time and money, but most importantly it helps you preserve and share your special moments."
Krome Photos App for iOS
Krome Photos on iOS is simple to use. Best of all, the average person doesn't have to spend 8 hours learning how to use advanced photo editing software just to get the image right. Here is how it works:
1. Select Custom or Express Retouching. For Custom Retouching, you can provide editors with specific instructions on what to change or remove.
2. Select a product. Choose between digital image only, 4x6 or 8x10 photo prints, photo books, or photo plaques.
3. Choose image(s) from your iPhone photo library.
4. Enter shipping address and payment information.
5. A few hours later, receive back your retouched photo along with a scrollable view of the original image to compare the difference!
6. Get your photo gifts and prints by mail or seamlessly share on Facebook, Twitter or by email. Photo image files are always backed up on the Krome website.
Available now on the App Store https://itunes.apple.com/us/app/krome/id626948042.
Krome Photo Editing Options
Custom Retouch (as low as $4.99) is most similar to professional retouching services that can charge by time or operation performed, and otherwise cost $20 or more per image. Custom Retouch customers can tell Krome Photos exactly how they would like images to be retouched, whether it's removing objects, smoothing skin or even changing the background. The editor will spend as much time as needed to make them perfect without any additional charges.
Express Retouch (as low as 30 cents) is a handcrafted service so Krome Photos doesn't just use an automated tool to make gross changes to a whole digital image without attention to detail. Krome Photos editors retouch specific areas of images and attend to the details in a way only a professional editor can. A Krome Photos editor will improve the colors, brighten shadows, crop and remove red-eye, all to ensure your photos look their best.
Krome Photos Printing Options
Krome Photos offers a wide variety of printing and gifting options at competitive pricing. The iPhone app offers 4" x 6" and 8" x 10" prints, a 5" x 7" photo plaque as well as mini books and 7" x 7" photo books.
All original and retouched photos and orders are backed up on the web, so customers can see larger versions of before and after comparisons, and order more sophisticated products, including 5" x 7" prints, 8" x 10" photo plaques, five sizes of photo books in hard and soft cover options, 16" x 20" canvas prints, as well as iPhone cases. U.S. shipping only for all prints, books and gift products.
About Krome Photos
Krome Photos (http://kromephotos.com) is a San Francisco company that connects iPhone photographers with professional photo editors instantly. Through the Krome Photos iOS app, the company delivers expertly retouched images and options for sharing, gifting and printing.