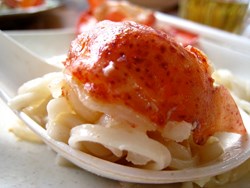 (PRWEB) September 19, 2013
The GetMaineLobster.com team's goal is to demonstrate how lobster can enhance everyday life, which is why its chefs are whipping up a new lobster recipe each week. This week, GetMaineLobster.com unveils a healthy lobster recipe, a Chilled Maine Lobster Soba Noodle Salad with Goma-dare.
Ingredients include 1.2 to 1.4 pounds of fresh Maine lobster meat for each serving, six ounces of Soba noodles, one seeded and julienned cucumber per serving, three julienned scallions per serving, one half of a cup of Enoki mushrooms, one cup of shredded Napa cabbage, 10 to 20 finely sliced mint leaves per serving, and 10 to 20 finely sliced cilantro leaves per serving.
For the Goma-dare, ingredients include six tablespoons of white sesame seed paste, two tablespoons of soy sauce, two tablespoons of vinegar, one tablespoon of mirin, and four tablespoons of chilled dashi. To prepare, combine all of the ingredients in a small bowl except for the sesame seed paste. Place the sesame paste into a larger bowl and, drop by drop, mix the liquid into the paste until fully combined, and then chill. If any of these ingredients are unavailable, combine one cup of pre-made soy dressing with one tablespoon of toasted sesame seeds.
To prepare the main portion, chop the lobster meat into bite-size pieces and chill. Then, bring a large pot of water to a boil for the Soba noodles. In a separate bowl, create an ice bath to cool the cooked noodles. Cook the soba noodles as directed on the packaging and immediately shock in ice water until cool. Next, strain the noodles from the water and toss lightly with one tablespoon of vegetable oil. Finally, add in the remaining ingredients, toss together, season with the Goma-dare and sprinkle with the toasted sesame seeds. GetMaineLobster.com recommends serving the dish with a side of lime and sriracha chili sauce!
Browse Get Maine Lobster's wide range of seafood offerings, access other healthy lobster recipes or view current seafood specials by visiting GetMaineLobster.com or call (866) 562-.4817. Stay updated and Like us at Facebook.com/GetMaineLobster or follow us at Twitter.com/GetMaineLobster. For even more lobster news and recipes go to JustAddLobster.com.
About GetMaineLobster.com
GetMaineLobster.com, a division of Black Point Seafood and Black Point Gourmet, hand-selects the finest Maine lobster, seafood and beef products for convenient distribution throughout the United States. Their passion is to make fresh, quality seafood readily available to customers across the country, which is why they buy from only the most trusted, well-established suppliers to ensure that they receive the finest products available.
GetMaineLobster.com was selected out of the more than four million small American businesses served by Chase bank to represent its new Platinum Business Checking product for its 2013 national advertising campaign.