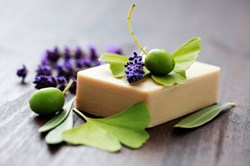 Andover, MA (PRWEB) September 20, 2013
Zion Health is pleased to announce that eco-friendly, organic grocer Whole Foods Market located on 40 Railroad Street in Andover, MA. will now carry Ancient Clay organic soaps containing high-grade, nutrient-rich calcium montmorillonite clay, known for its unique detoxifying properties. According to MIT scientist, Dr. Robert T. Martin, calcium bentonite (montmorillonite) clays have a large surface area that enhances their adsorption and in turn, their ability to attract positively charged particles. The clay is known to bind positively charged toxins, viruses and bacteria with its unique negative charge and remove them from the body.
Zion natural soaps also combine healing essential oils, edible coconut oil and palm oil for effective, gentle cleansing. Each soap has a distinct natural scent with energizing essential oils like lavender, lotus flower blossom, lemon verbena and citrus. The symbolism of these invigorating fragrances is reflected on packages with native archetypes conveying abundance, happiness, prosperity and beauty. A fragrance-free clay soap; Moondance is also available for sensitive skin.
Whole Foods Market is a nationwide supporter of environmentally friendly, cruelty-free, premium body care products. They are committed to offering the highest quality personal care products for health conscious consumers. Zion Health natural soaps are clay based and not tested on animals.
Zion Health's natural line of organic Ancient Clay Soaps are now available at Whole Foods Market in Andover, MA, and at health food markets and co-ops throughout the United States and Canada. Zion provides its consumers with pure skin and body care products that are vegan, free of parabens, and aluminum and formulated using certified organic ingredients whenever possible.