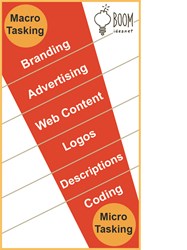 At PetSmart, we've turned to Boom Ideanet to source a range of creative ideas, from graphic designs and promotional concepts to web content and campaign ideas. - Shane McCall, Vice President of Creative Services for PetSmart
Kansas City, MO (PRWEB) September 19, 2013
Crowdsourcing models were initially thought of as suitable for the handling of small incremental tasks. The business challenge was to break up larger projects into smaller units, distribute those tasks to "the crowd" and then essentially assemble all the parts into the whole. Fairly quickly, however, the nature of tasks manageable through crowdsourcing models has moved up the scale of complexity. And a variety of marketing-focused firms are beginning to turn to these new models: brands, retailers, ad agencies, in-house agencies, production companies, and more.
"At PetSmart, we've turned to Boom Ideanet to source a range of creative ideas, from graphic designs and promotional concepts to web content and campaign ideas" said Shane McCall, Vice President of Creative Services for PetSmart. "We initiate each project with a brief that outlines our strategy and brand guidelines, setting a clear direction for the final idea. The ability to share feedback with the network as we move through the process has been invaluable and is leading to an even better final result."
"Where crowdsourcing models were once devoted strictly to easily segmentable tasks, it is now possible to perform higher order tasks. There's a lot of conversation around advertising elements, such as logo design and sloganeering, of course. But in fact, projects such as broadcast advertising can be handled, as well," says Steve Wood, Managing Director of Boom Ideanet. "For example, Petsmart has tapped Boom Ideanet to procure ideas for multiple story ideas in promotional campaigns or to provide full-blown scripts for tv spots."
Wood adds, "These types of work can be managed by creating dedicated online applications and by populating a network with the right kind of problem-solvers. Because it's higher order thinking our clients are after, we talk about the outcome rather the method, ideas rather than the crowd. In other words, our model is now really about "ideasourcing," rather than crowdsourcing."
About Boom Ideanet
Boom Ideanet, LLC represents an ethical crowdsourcing platform for marketing and advertising idea creation. The model offers businesses a cost advantage without taking advantage of creators. Based in Kansas City, MO, Boom manages a global network of creative talents, hosts assignments to guide ideasourcing in its proprietary online application.