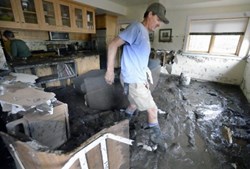 There is no more flexible way of keeping your lifeline charged and ready for the next emergency that will happen to you
Salt Lake City, UT (PRWEB) September 19, 2013
With historic flooding in Colorado and New Mexico, electrical fire in New Jersey and power outages across the country, it's as though National Preparedness Month couldn't have happened at a more topical time.
These troubling events remind us that staying prepared is not just for those expecting the end of the world. Instead, it is for anyone who wants to be ready for the unexpected emergencies that are sure to happen at least once in a lifetime. This year holds the 10th annual National Preparedness Month, an event aimed at encouraging people to get involved in community preparedness efforts and be prepared at home.
Importance of Power
Being prepared at home can take many forms, making it difficult for some people to decide what's important. One thing that is important not to overlook is backup power. The first thing to go in any emergency is electricity. Though some people view it as a luxury, electricity is essential in an emergency. Virtually all disasters are localized, meaning help is bound to come from the outside. Having access to electricity enables people to power cellular or satellite phones. This lets them check on loved ones or call for help.
Steven Harris, a prominent Emergency Preparedness blogger and author, blogged about the importance of cellphones in an emergency:
"During a disaster your most important tool is your smart phone. With it you can call for help to 911, friends, neighbors and family. You can let others know you are OK. You can read and watch the news live, find out what is happening and where you might need to go or how long you need to stay in place. Your smart phone is also your GPS and a handy flashlight. But all of this is useless unless the battery is charged."
Stay Prepared with the PowerPot
How then does one keep a phone charged during an extended power outage? Extra batteries are fine, but what if the outage lasts for days or even weeks? Harris has some advice on that front as well. He recommends the PowerPot, a cooking pot that generates electricity from heat. "The sole function of the Power Pot by Practical Power is to keep your cell phone battery charged," said Harris. "One gallon of fuel in a coleman stove will keep an iPhone charged over 140 times. The power pot even works over a small camp fire."
One advantage the PowerPot has over solar and gas generators is that it works on any fuel source, and in any weather conditions. This lets users charge their cellphone in any situation where they can create heat. "There is no more flexible way of keeping your lifeline charged and ready for the next emergency that will happen to you, " said Harris.
To learn more about the PowerPot head to their official website http://www.thepowerpot.com. Also be sure to check out Steve Harris' collection of books online at http://www.knowledgepublications.com.