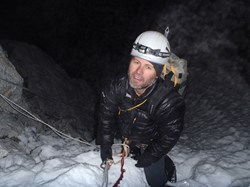 "So while we'll be up against a number of obstacles, the Z-Wave technology is not one of them." -- Mariusz Malkowski
Mount Cho Oyu, Nepal (PRWEB) September 19, 2013
From one of his many base camps, set up to help him get acclimated for his climb up Mount Cho Oyu, Mariusz Malkowski held what is known as a puja.
A puja is a ceremony of gratitude or a religious ritual performed as an offering to various deities. Performed on a variety of occasions and in numerous settings, the puja is popular among climbers asking the gods for permission to enter the higher reaches of a mountain.
Given that Malkowski is scaling the sixth-highest mountain in the world, a puja is not a bad idea. After all, there have been almost 50 recorded deaths since 1958 among climbers trying to reach its summit. But it's not just getting to the top that Malkowski can use some help with -- he might also need a hand with what he's going to do once he gets there.
Once at the summit of Cho Oyu, Malkowski, using only his smartphone, will control electronic devices set up in the Z-Wave booth at the CEDIA Expo in Denver, over 7,000 miles away. Scenes will include locking and unlocking a new Kwikset SmartCode™ 914 Deadbolt with Home Connect™ technology and adjusting temperature on his Remotec Thermostat, as well as controlling other Z-Wave Devices. The purpose of this exercise -- officially titled the "Z-Wave Himalayan Expedition by Kwikset" -- is to show end-users the dependability of Z-Wave technology, as well as highlight the numerous benefits of home automation.
By virtue of the remote location -- not to mention the rugged environmental conditions, and lack of technical support capabilities -- it is being dubbed the "longest distance demonstration of home-automation ever recorded."
The CEDIA Expo, the leading tradeshow in the residential electronic systems industry, is being held in Denver, CO from September 26-28, 2013. The exact date and time of the demonstration are to be determined, depending on the pace of Malkowski's ascent. (Malkowski began his ascent on September 10 and will conclude his descent on or around October 6.) Malkowski plans to broadcast a live remote from the mountain summit to the show location so that Expo attendees can watch the demonstration.
While Malkowski is confident about the success of the demonstration, he undoubtedly faces some serious challenges.
"There's no question that the climatic conditions may present an issue," he said by phone from base camp. "And needless to say, cell phone service may be spotty on top of the sixth-highest mountain the world. Plus, you can never take for granted that you'll actually make it to the top. One thing I am not worried about, however, is the home automation technology itself. From our base camp, we've been running long-distance tests on the devices, operating Z-Wave devices set up back in the United States, and they've been working perfectly. So while we'll be up against a number of obstacles, the Z-Wave technology is not one of them."
Kwikset, the leader in residential security, was named as the lead (diamond) sponsor of the event. The company will have a number of representatives at CEDIA not only exhibiting the company's residential security products but cheering on Malkowski in his sky-high, high-tech attempt. Additional sponsors include: Vivint (platinum sponsor); Z-Wave Alliance (platinum sponsor); Alarm.com (gold sponsor); Remotec (silver sponsor); and Z-Wave Products (silver sponsor).
Cho Oyu, which means "Turquoise Goddess" in Tibetan, is the westernmost major peak of the Khumbu sub-section of the Mahalangur Himalaya, 20 kilometers west of Mount Everest. The mountain stands on the Tibet-Nepal border.
Interested observers can follow all the details of the expedition on Facebook at http://www.facebook.com/ZWaveHimalayanExpeditionByKwikset or at http://www.facebook.com/kwiksetlocks.
About Z-Wave
Z-Wave technology is an open, internationally recognized ITU standard (G.9959). It is the leading wireless home control technology in the market today, with over 900 certified interoperable products worldwide. Represented by the Z-Wave Alliance, and supported by more than 250 companies around the world, the standard is a key enabler of smart living solutions for home safety and security, energy, hospitality, office and light commercial applications.
About the Z-Wave Alliance
Established in 2005, the Z-Wave Alliance is comprised of industry leaders throughout the globe that are dedicated to the development and extension of Z-Wave as the key enabling technology for 'smart' home and business applications. Representing a broad range of industries, channels and consumer touch points, the Z-Wave Alliance members all share a common goal -- to bring advanced, yet practical wireless products and services to market that work together seamlessly, regardless of brand or vendor. This interoperability between products and brands is unique to Z-Wave, which each Alliance member has adopted as its wireless technology of choice.
About Kwikset
Kwikset, the leader in residential security, manufactures and markets a complete line of door locks and door hardware, including door knobs, door levers, deadbolts, handlesets, pocket door hardware and electronic keyless entry locks for residential and light commercial applications. Kwikset's SmartCode™ locks with Home Connect™ technology are the industry's leading wireless, access control lock solution for the digital home.
###