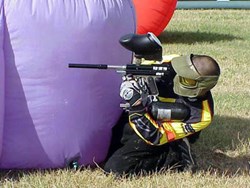 Insure Fun Center's staff is trained & dedicated to finding solutions with positive results
(PRWEB) September 18, 2013
This program is underwritten by an A + rated insurance company and it has been specifically designed to meet the needs and exposures of this particular industry, and to avoid the gaps that generally appear in the typical commercial general liability insurance policy for similar operations. There are numerous exposures associated with these types of operations and plenty of risk involved. Obtaining a simple insurance quote alone can be a daunting experience, let alone making sure it is the proper coverage needed. This is simply the reason why a true professional is needed to clarify in a detailed, step-by-step approach, the entire process of securing a proper Paintball Insurance policy according to the appropriate business scenario presented.
"Insure Fun Center's staff is trained & dedicated to finding solutions with positive results" says Liberty United Insurance V.P. of operations and Insure Fun Center founder Samuel Muradyan. Whichever type of FEC Insurance a person may be on the search for, the professionals at Insure Fun Center are trained and ready to tackle the most intricate business scenario presented to them. With this Paintball Insurance now among the existing product lines currently being offered by Insure Fun Center, they are truly a one stop shop for all types of Family Entertainment Centers on a national scale.
The rates are extremely competitive and affordable, the service is unmatched and with a super-fast turnaround time on quotes, policies, as well as additionally insured certificate issuance, they are quickly becoming a household name within the communities of various Family Entertainment Center industries. Testimonials by current insured clientele of Insure Fun Center speaks loud and clear by exemplifying what this group of professionals bring to the much needed Amusement Insurance Industry. Above & beyond service with a sincere conviction to honesty and integrity, while representing the best interest of the customer without any ambiguities. This is without a doubt a clear-cut illustration of which every professional insurance agent should strive to achieve.
In conclusion, the process of acquiring a Paintball Insurance policy may seem like a complex project, and shopping for it may indeed drive a person to a complete level of nuisance, but based on real facts alone, Insure Fun Center can be that solution one's searching for. If given the opportunity, they will transform the exasperation of the specialty insurance seeker into an inspiring triumph. For all specialty insurance seeking consumers' out there, witness firsthand why so many that came before are truly fulfilled with gratification form this unique assembly of professionals called Insure Fun Center.