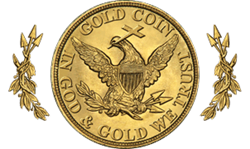 New York, NY (PRWEB) September 20, 2013
Despite the stagnant behavior of gold coin prices recently the Internet has been bombarded with blogs, press releases and articles that seem to paint a picture of a thriving rare gold coin market. Searching for "gold coins" or "rare coins" via Google News reveals that in the last few weeks auctions have been held for a wide range of some of the rarest gold coins in existence, with the final bids often exceeding previous estimates. Gold coin exchange GoldCoin.net has taken notice and wants the public to know that not everything is rosy in the gold coin market.
"Some companies have decided to take tidbits of good news like auctioned coins selling for record amounts and tie that to the investment side of the gold coin market," says GoldCoin.net vice-president of marketing Alec Berg. "Comparing rare gold coin auction prices to investment-grade gold coins is not only apples and oranges but extremely unethical," Berg added.
Berg said that while demand for gold bullion coins and investment-grade PCGS and NGC coins remains high, spot prices have been on the decline. "Most folks who are buying gold coins are doing so for safety, as a back-up plan. We consider gold to be insurance against a crashing dollar, but while prices may rise in the future we don't see any value in promoting extremely rare coins that may or may not be profitable 20 years down the road."
Berg recommends that investors interested in gold coins research the difference between bullion and certified coins by completing the brief yet informative tutorial found at GoldCoin.net and provided free-of-charge to the public. Additionally, says Berg, vet any potential gold dealer through the Better Business Bureau, Yelp, Scambook and the Ripoff Report before placing an order.
Gold Coin (GoldCoin.net) has over two decades of experience advising household investors on smart physical gold and silver investments and gold coin IRA and 401k plans. They buy and sell all types of precious metals and offer free home delivery. For more information or a free "Gold Coin Starter Kit," visit http://www.goldcoin.net or call 1-800-425-5672 today. Additionally, follow GoldCoin.net on Twitter @GoldCoinNet and click "Like" at https://www.facebook.com/goldcoinprices for seasonal sales, discounts and exclusive offers.