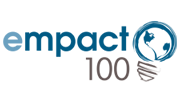 Adscend Media has seen a 1,123% growth in earnings from 2009-2012.
Austin, Texas (PRWEB) September 19, 2013
Adscend Media, a leading performance advertising network with over 18,000 publishers worldwide, announced today that the company has been selected to the 2013 Empact100 List. Awarded by the Empact Academy, the Empact100 List consists of the top one hundred most prosperous Empact Showcase companies that are located within the United States, have founders who are 35 years of age or younger, and have annual revenues, or operating budgets, of more than $100,000.
Adscend CEO, Fehzan Ali, was ecstatic to be recognized by the Empact Academy. "Adscend Media is always very proud of any honors that we receive. However, to be recognized by Empact Academy, a group that includes leading entrepreneurs like Tony Hsieh of Zappos, Chuck Templeton of Open Table, and Mike DeLazzer of RedBox, makes this honor even more special," stated Ali.
Known for providing innovative monetization solutions, Adscend's content locking, affiliate marketing, and virtual rewards technologies have also earned the company recognition this past year from Inc. magazine and Revenue Performance. Adscend has seen a 1,123% growth in earnings from 2009-2012.
Ali believes that Adscend's company-wide entrepreneurial drive is one of the main reasons for the company's success and their inclusion on the 2013 Empact100 List. "At Adscend, our entire team is empowered to help develop and enhance our solutions, in order to enable our publishers to generate more revenue and our advertisers to bring in the highest quality leads for their advertising spend as possible," adds Ali.
Since the company's inception in 2009, Adscend's primary monetization solution has been its content locking technology. Adaptable to most forms of digital content, Adscend's content locking technology provides premium content publishers with an advertiser-sponsored, alternative payment option for their digital goods. Adscend's content locking technology is currently being deployed on hundreds of types of digital content items by Adscend publishers, including deployment on songs, eBooks, online tools, mobile apps and games, videos, online games, coupon codes, guides, files, and templates.
According to Ali, Adscend's content locking technology allows premium content producers to compete with "freemium" content producers. "Our technology, including our content locking and virtual rewards tools, allows our publishers to provide their digital goods and services to their users for participating in an advertiser-sponsored offer. This levels the playing field for premium content producers, as the factor of price is eliminated from content purchasing decisions," states Ali.
For more information on Adscend Media, please visit http://adscendmedia.com.
About Adscend Media
Founded in 2009, Adscend Media is a leader in the online advertising space, focused on developing innovative, turn-key digital content monetization solutions. Adscend Media's content Locking solutions allow publishers to maximize revenues from their premium content, and realize earnings far beyond that of traditional CPM advertising. Adscend's vast global reach and high engagement solutions also allow advertisers to acquire new customers, perform market research, and ultimately grow sales. Each month, Adscend's offer platform features offers targeted to users in over 180 countries and delivers over 500,000 actionable leads per month to their advertising partners.