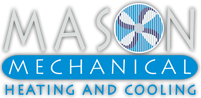 Mesa, AZ (PRWEB) September 24, 2013
Although temperatures in the Valley of the Sun are still hovering in the triple digits, fall is fast approaching. With that in mind, Mesa heating and cooling company Mason Mechanical provides homeowners with the following tips on how to take advantage of the season and improve the indoor air quality of their homes for the winter (and summer) ahead.
Seal air leaks. Purchase and install caulking and weather-stripping around windows, doors and any other cracks or crevices where air can escape. This will prevent treated air from escaping your home and polluted air from entering.
Remove allergens. Improve indoor air quality by removing allergens and airborne pollutants with a whole-home air filtration system (Mason recommends Trane CleanEffects™). An air filtration system can remove up to 99.98% of allergens. This is also a good time to have carpets cleaned to remove dirt, debris and allergens that are trapped within the fibers.
Change air filters. Replacing air filters on a regular basis drastically improves the efficiency of most heating and cooling systems. Mason recommends filters be changed every one to three months to ensure the best performance.
Invest in a maintenance plan. Routine maintenance of heating and cooling systems ensures it is working at optimum efficiency. Small repairs can be done before they become serious issues and before they interrupt the comfort-level of the home. Most HVAC companies provide maintenance plans that are convenient and affordable for all homeowners.
For more information on heating and cooling services, call Mason Mechanical at 602-680-5086 or visit http://www.masonmechanical.com.
About Mason Mechanical
Started in 1993, Mason Mechanical provides reliable heating and cooling services to commercial and residential customers in Mesa and the surrounding areas. As a Trane Comfort Specialist with NATE and Building Performance Institute (BPI) certified service technicians, Mason Mechanical offers a range of services including maintenance, repair, indoor air quality, and duct sealing. Mason Mechanical Heating and Cooling also proudly installs high quality Trane systems with financing and rebates available to those who qualify.