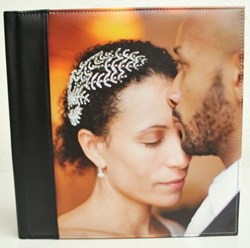 Palo Alto , CA (PRWEB) September 30, 2013
BrideBox, a professional wedding album design solution offering direct to bride professional wedding albums, has released two new product lines, a photo-printed leather cover and a metal printed cover.
"These new top of the line wedding albums are one of a kind, simply gorgeous! The metal covers are aluminum base which allow the metal to show through, a clear glossy base that showcases the image" says Bryan Passanisi, BrideBox Marketing Manager "The printed leather album covers are another unique choice to help Brides to keep their memories alive and share their story, the cover image is actually custom printed on luxury full-grain leather in a choice of embossed croc or smooth leather. The beautiful grain and luster of the leather is exquisitely maintained in the printing process, making this album cover a chic and classic presentation of you're the images of this important day"
All albums are created and offered direct-to-bride, saving couples hundreds if not thousands of dollars by enabling them direct access to products never before offered direct to brides. Creation is done either with BrideBox free desktop album software which is loaded with wedding album templates, like with all BrideBox album images will be manually color corrected. And every wedding album is handcrafted by our lab technicians and overlooked for quality assurance before sent out.
The new album lines are available at http://www.BrideBox.com.
About BrideBox
BrideBox is devoted to helping couples design their own wedding albums. The BrideBox line of wedding albums offers unmatched quality, without sacrificing top photo finishing that mark a professionally produced album. Through the BrideBox software platform, couples can create albums produced with the same individual attention of imaging professionals for a significant cost saving.
BrideBox is a division of DigiLabs, Inc., a privately-held company that creates superior photo products available through professional photographers.
Find BrideBox on Facebook - http://www.facebook.com/BrideboxWeddingAlbums.
To download the free software application, visit http://www.BrideBox.com.