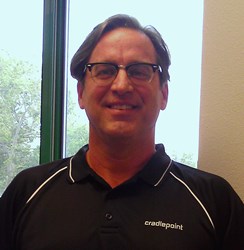 Kent's experience will be invaluable as CradlePoint looks to grow our business across multiple verticals, stay abreast of the latest threats, and respond quickly to our customers. -George Mulhern, CEO and Chairman of the Board at CradlePoint
BOISE, Idaho (PRWEB) September 19, 2013
CradlePoint, the global leader in 3G/4G wireless networking solutions for distributed enterprises, today announced the appointment of Kent Woodruff CISSP, GAWN as Chief Security Officer (CSO). Woodruff, an expert in Wireless Network Security and Threat Analysis, brings with him over 30 years of experience and assumes responsibility for the vision and implementation of CradlePoint's security across its entire suite of networking solutions. Woodruff will report directly to CradlePoint's CEO and Chairman of the Board, George Mulhern.
CradlePoint's products are deployed as direct and failover applications across a wide spectrum of clients in the retail, financial, transportation and machine-to-machine markets. CradlePoint solutions integrate secure services, products and people in a manner that improves business connectivity and continuity.
"Today's customer is asking that all aspects of their network be secure, including the router and tools that manage it," said Woodruff. "This is an exciting time to be joining CradlePoint as they are viewed as the industry leader and technology innovator. I look forward to helping continue the company's growth and customer satisfaction as we integrate the next generation of security into all of CradlePoint's products."
Mr. Woodruff brings a keen understanding of industry and technology trends to CradlePoint along with a strong regulatory and compliance competence. CradlePoint's growth domestically and abroad will allow Woodruff to leverage his experience in demonstrating the vulnerabilities of wireless networks, as well as how such vulnerabilities can be mitigated. Woodruff will be looking to bolster the high level of security CradlePoint customers have come to expect from its COR and ARC product lines as well as from its cloud-based management platform, CradlePoint Enterprise Cloud Manager.
Woodruff joins CradlePoint from Motorola AirDefense where he was Chief Security Analyst. In this position, Woodruff was responsible for wireless and mobile device security research, technical support, and guidance for the Motorola AirDefense sales teams. Woodruff has proven expertise in a wide variety of technologies including software development for embedded systems; wireless and mobile security assessments, mobile device management; vulnerability management; and network assurance, security and compliance.
"Kent's experience will be invaluable as CradlePoint looks to grow our business across multiple verticals, stay abreast of the latest threats, and respond quickly to our customers," said Mulhern. "Kent will be actively engaged with our customers and work with our development team to develop the strongest security for our family of products."
About CradlePoint
CradlePoint is the global leader in cloud-managed 3G/4G networking solutions, providing business-grade, secure connectivity to distributed enterprise, small businesses, and mobile customers. Specializing in failover, machine-to-machine (M2M), and primary connections, CradlePoint's award-winning solutions are purpose built for PCI-compliant networks. CradlePoint is the first to pioneer and fully enable high-speed LTE in its solutions to maximize the potential of the cloud for businesses worldwide. CradlePoint is a privately held company in Boise, Idaho. Learn more at CradlePoint.com or follow on Twitter @CradlePoint.
MEDIA CONTACT
Michael Rotchford
CradlePoint
208.639.4276
mrotchford(at)cradlepoint.com