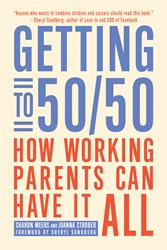 Don't believe the myths about women and work - this advice will benefit you now and in the future.—Sheryl Sandberg, author of Lean In and COO of Facebook
(PRWEB) September 19, 2013
The Center for American Progress held a panel on why women need a fair shot at getting ahead. Sharon Meers, head of Magento Enterprise Strategy (eBay), and author of Getting to 50/50: How Working Parents Can Have It All, spoke to the issue of the "leadership gap." She shared insights on how women can fill more leadership roles so they can be part of the decision-making processes that shape legislature and society. Other speakers on the panel included Nancy Pelosi, who argued that "when women succeed, America succeeds."
Sharon Meers's Getting to 50/50 focuses on these same issues, providing practical and well-written advice for working mothers on getting ahead at work and balancing work and home life.
Sharon will appear in person with her co-author Joanna Strober at these events:
10/25/13 7pm, Books Inc Alameda, Alameda, CA
10/27/13 4pm, Book Passage Marin, Corte Madera, CA
10/30/13 7:30pm, Kepler's Bookstore, Menlo Park, CA
What people are saying about Getting to 50/50:
"Don't believe the myths about women and work - this advice will benefit you now and in the future."
—Sheryl Sandberg, author of Lean In and COO of Facebook
"If you are struggling with how working couples can have it all, you must read Getting to 50/50 for yourself, for your children and for your career and for your relationship."
–Susyn Reeve, author of The Inspired Life
Sharon Meers was a Managing Director at Goldman, Sachs & Co. until April 2005, when she decided that it was time to write this book. In her 16-year career at Goldman, Sharon ran several businesses and became one of the few female managing directors on the West Coast. In addition to mentoring many women, Sharon co-chaired the Women's Network in the Investment Management Division, served on the diversity committees of two of the firm's divisions and developed a mentorship program that linked high-potential women to senior male advisors.