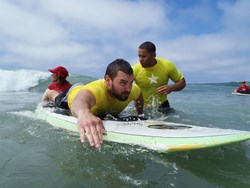 San Diego, Calif. (PRWEB) September 19, 2013
Disabled Veterans from across the country are gathered in San Diego for the 6th National Veterans Summer Sports Clinic.
More than 100 recently injured Veterans are learning adaptive sports during the week-long rehabilitation event. The clinic is sponsored by the U.S. Department of Veterans Affairs (VA), the Veterans Canteen Service and other community sponsors.
Activities include adaptive kayaking, sailing, archery, rowing, cycling and surfing. Venue locations include the San Diego Marriott Marquis & Marina, La Jolla Shores, the Mission Bay Yacht Club, Fiddler's Cove and Tidelands Park in Coronado, and the United States Olympic Training Center in Chula Vista.
Participants' injuries include orthopedic amputations, traumatic brain injuries, burn injuries, psychological trauma, certain neurological conditions, visual impairments, spinal cord injuries, as well as other injuries.
The VA San Diego Healthcare System has hosted the event since its inauguration in 2008.
VA is a recognized leader in rehabilitative and recreational therapies, and operates more than 1,400 sites of care, including 153 medical centers.
For more information about the Summer Sports Clinic, visit http://www.summersportsclinic.va.gov.