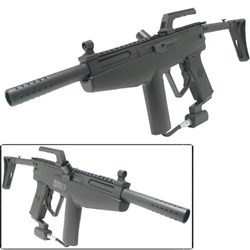 Morgan Utah (PRWEB) September 19, 2013
Kingman Spyder MR5 @ Action Center Paintball
The Spyder mr5 features the "DLS" Dual Loading System capable of shooting .68 Caliber paintballs through a standard top loading hopper, and lower mag-feed system. This innovative "DLS" Dual Loading System utilizes a unique patent pending system that enables you to interchange your loading system with a quick turn of the barrel allowing the user to switch between a traditional upper load feed system and lower magazine feed system during play. The MR™5 is First Strike™ equipped with the option to shoot First Strike™ paintballs from Tiberius Arms; fed through the included 9 Round magazine. The First Strike™ paintball offers 2x more range and 25x more accuracy.
Paintballguns.tv The new Spyder MR5 is announced at Action center paintballguns.tv website @ $189.99 it is the best price online, and is a fully upgraded version of the gun. Order the Spyder MR5 today, and tear up the woodsball & scenario fields.
the spyder mr5 @ http://www.utahpaintballsupply.com
Utah Paintball Supply is An Action Center Company and has one of the LARGEST inventories of any paintball gear and accessories store in the Western United States. Action Center has 20 years in the paintball industry, Get the advantage on the playing field by choosing the best of our thousands of paintball guns, goggles, tanks, loaders, and hoppers. Utah Paintball Supply is the largest little paintball store you will ever see.