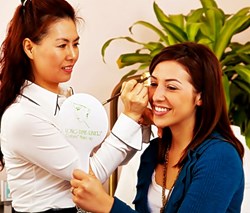 Long-Time-Liner® Conture® Make-up is the final touch to any facial or body cosmetic enhancement.
Beverly Hills, CA (PRWEB) September 19, 2013
Many people choose to receive cosmetic procedures to look and feel more attractive and youthful. With face and neck lifts, brow lifts, eye lid tucks, nose sculpting, and facial implants; patients can recreate their entire facial features.
After pregnancy, dramatic weight loss, liposuctions and tummy tucks, there can be scars or unevenness in skin pigmentation left over. Areolas can lose their color or be unbalanced in shape and size, and sometimes unsightly scarring is permanently a part of the new silhouette. Long-Time-Liner® Conture® Make-up is a solution.
While the concept of long-lasting and permanent make-up has been relevant for many years, the intricacies of these services do not always yield the most subtle and natural looking results. This is where the company of Long-Time-Liner® stepped in. The methods of micro-pigmentation used in the services provided by Long-Time-Liner® are gentle, subtle, natural looking and harmonious. Due in large part by the skill of the highly trained and experienced technicians of Long-Time-Liner®, patients can perfect their cosmetic enhancements.
Small scars, large scars, skin discolorations and skewed features can be fine-tuned and adjusted to create a balanced and completed overall appearance. After brow lifts, the eyebrows can be filled in and groomed to perfectly enhance the whole face. After lip injections or implants, the color can be made more vibrant, youthful and healthy. Contouring of eyes and lips can be clarified and composed to enrich the lucidity and brightness of facial expression.
Lifts and facial fillers can sometimes cause stretching of features, or pulling at corners of eyes and lips. Long-Time-Liner® Conture® Make-up can recreate and improve the shapes of eyes and lips by fashioning new and more attractive shapes that counteract the effects of the stretched canvas of a face.
Long-Time-Liner® Conture® Make-up is the final touch to any facial or body cosmetic enhancement. It camouflages scarring, re-defines features and masks and problematic effect of surgeries. It may mean the difference between getting that tummy tuck or not, if the prospective patient is worried about scars. It is the cherry on the top of the perfectly sculpted sundae that is the enhanced human body.
Long-Time-Liner® is located in Beverly Hills California, at the heart of the beauty and luxury product center. There have been many beautiful and satisfied customers from all age groups, nationalities and personal style. Semi-Permanent Conture® Make-up can make a significant improvement to anyone's beauty. Contact the salon for more information and to book a consultation!