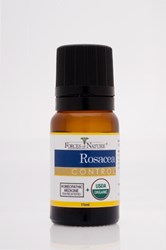 This is truly a breakthrough in the treatment of rosacea. It is the only medicine available to treat rosacea which has been issued the coveted USDA organic certification. It is truly one of a kind.- Peter Klapper, CEO
Sonoma, CA (PRWEB) September 20, 2013
More than 16 million Americans suffer from rosacea, characterized by red, acne-like marks, according to the National Rosacea Society. While there are treatments for rosacea, there are no cures, often leading to frustration and excessive doctor's visits for sufferers. A brand-new treatment – the first certified organic rosacea treatment available over-the-counter – Rosacea Control from Forces of Nature is a non-steroidal anti-inflammatory agent that can safely and effectively treat rosacea on the face, neck, eyelids and more.
Taking advantage of the many natural ingredients available for skin care, Rosacea Control includes rose hip seed oil, German chamomile and other time-tested ingredients that include antioxidant properties as well.
"We designed Rosacea Control to be both pure and powerful, not to mention incredibly effective, and are thrilled to launch the first over-the-counter treatment for rosacea that's certified organic," said Dr. Peter Klapper, CEO, Forces of Nature. "Rosacea Control was designed as a safe alternative treatment that is ideal for either short- or long-term use with guaranteed results."
Rosacea Control helps heal wounds while also stimulating the body's auto-immune response. In addition, its active ingredients have favorable efficacy data, including impressive data on long-term use. The treatment safely relieves itching, rashes and irritation, with soothing essential oils that penetrate deep into the skin. Rosacea Control is designed to offer:

Fast results for treatment of rosacea
Deep-penetrating action and a powerful anti-inflammatory response
A more even skin tone
Safe treatment of symptoms associated with rosacea
An FDA-registered and certified organic rocacea treatment alternative
Rosacea Control was developed in-house by the Forces of Nature medical team, including Dr. Mair Mckinnon, a naturopathic doctor, and a Forces of Nature staff biologist specializing in plant medicine, CEO Dr. Peter Klapper.
Forces of Nature stands behind its products, offering an unprecedented one-year money-back guarantee to demonstrate its high level of product confidence. The company's mission is to provide innovative natural medicines which deliver results to bring healing to the world.
Forces of Nature is dedicated to well-being and supporting a chemical-free environment. The company's aim is to stop focusing on symptom management and deliver real solutions, working to heal illness at its core.
For more information on Rosacea Control as well as Forces of Nature's full line of natural remedies, please visit http://www.ForcesofNatureUSA.com.
About Forces of Nature
Forces of Nature is the only worldwide manufacturer of FDA registered certified organic medicine. These natural treatments target hard-to-treat conditions including varicose veins, herpes, hemorrhoids and warts using a 2-in-1 approach that merges the power of healing botanicals with proven homeopathic drugs. Forces of Nature organic medicines are manufactured in a USDA Certified Organic and FDA registered facility and are backed by a one-year, money-back guarantee. Forces of Nature's treatments are available online internationally (http://www.ForcesofNatureUSA.com, http://www.ForcesofNature.eu), in pharmacies and in Whole Foods and Sprouts stores nationwide.