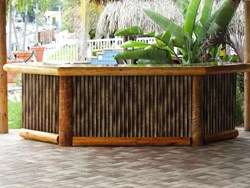 The convenience of faux bamboo with a natural look.
Deer Park, NY (PRWEB) September 27, 2013
FauxPanels.com's Wellington line adds a new style – bamboo siding panels. Even better, they come in fresh, new colors that offer wider design choices for DIYers, contractors and architects.
"Our existing bamboo line is quite popular so when we had an opportunity to expand color choices, it was an easy choice," said Steve Barron, president of Barron Designs, parent company of FauxPanels.com.
Installed indoors or outdoors, faux bamboo can create a distinctive look while being just as easy to install as the rest of our siding panels. Ever longed for a tiki bar in your backyard? Have a restaurant or yoga studio? Create a unique design. Need a backdrop for a fountain or water feature? These faux bamboo panels will hold up beautifully.
Even better, the five new colors – Burned, Golden, Green, Mahogany and Sundried – provide both a classic bamboo look as well as more creative choices. Both residential and commercial buildings benefit from the options.
Burned has the grayish brown look of charred wood. Golden is the classic yellow bamboo color. Sundried is a paler yellow. Green is a rich forest color. Mahogany is a lush reddish brown. Whatever your design, one of these colors will work perfectly.
Because it's made of polyurethane, they're extremely durable and easily survive even heavy wear and tear. Extreme temperatures, moisture, and pests won't be a problem. They will even resist fading from bright sunlight and are as easy to install as the rest of our siding panels.
"Wellington is one of our most popular lines. Adding a bamboo style in new colors just expands it's the possibilities for any kind of interior or exterior design," said Barron.
About Barron Designs
Barron Designs Inc. is a family-owned home improvement business operating since 1972. Its subsidiaries include the industry leading FauxPanels.com, which has a huge selection of easy-to-install, low maintenance, realistic faux brick, stone and wood panels, and outstanding customer service. FauxWoodBeams.com leads the field of polyurethane wood beam products, ceiling panels and architectural products. FauxColumns.com features easy-to-install faux stone and brick columns that meet national crash standards. Products from various Barron Designs companies have been featured on television shows such as "Man Caves," "I Hate My Kitchen," "Celebrity Apprentice," numerous appearances on "Extreme Makeover: Home Edition," and many more. For more information, visit BarronDesigns.com.