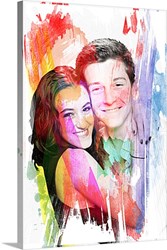 McKinney, TX (PRWEB) September 19, 2013
PopArtPros, a subsidiary of the popular PaintYourLife personalized art company excitedly announced the addition of a new style to its expanding line of custom prints and paintings. Aquarelle is an innovative and unique way of editing an individual's photographs to complete a look that is completely different from anything that could be found in a store, and not just because it is made with a person's own personal photographs.
The Aquarelle style turns a person's special picture into a work of art that looks like a stylistic watercolor, with flashy colors that can brighten up any room, whether it's an office, a den, or a bedroom. This new style is indicative of the reputation that http://www.PaintYourLife.com and http://www.PopArtPros.com has already built for itself as one of the leading brands in the small but strong market of photo print to canvas personalized art. One of the great things about this new style is that it is surprisingly customizable. Buyers who have a favorite color, or a favorite combination of colors, will be able to choose the splashes of color that appear on their print. It is even possible for a person to choose their colors to match their home décor.
Aquarelle is just one of the many styles that have been newly added to the PopArtPros lineup. The range of pop art styles is constantly expanding, with everything from classic designs reminiscent of Warhol to fun, contemporary designs like this one, which can really bring a photograph to life. Aquarelle is especially great for candid photographs and snapshots, as the informal splashes of color go great with the liveliness and vitality of this kind of photography. It is also less rigid and formal than other styles of art, although if you want something for a more formal room there are always options like PaintYourLife's oil paintings to choose from, or a realistic print from http://www.PrintYourCanvas.com.
As it begins offering this new editing style, PaintYourLife also reminds customers that it is devoted to helping them create the best possible art. From the process of choosing a photograph and editing it, whether than means removing a background or performing basic touches, to creating the actual print, the company vows to do it all for its customers. With every product PaintYourLife creates, customers are given the optimal amount of creative control. However, there is something to be said for having a professional artist at one's disposal, too. The company happily provides both so customers will always know that they are getting exactly what they need out of their photo to canvas print, every time.
About PaintYourLife
Since 2006 PaintYourLife has been the leading provider of online art products, and features one of the world's largest selections of canvas and art products. All products are designed by a team of professional graphic designers, and each product is created with the utmost quality and attention to detail. The site, which is a leader in the online art industry, has seen tremendous success because of customer and word-of-mouth referrals, and continuously works to develop innovative new ways to cater to an extensive range of needs.