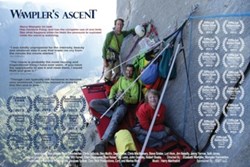 I fell madly in love with a man who, even with a disability, is funny, has the most infectious spirit, and is the most committed person you will ever know. And now, the world gets to see him this way also. -Elizabeth Wampler, director, Wampler's Ascent
San Diego and Los Angeles, California (PRWEB) September 19, 2013
The Stephen J. Wampler Foundation and Hollywood Locations today announced the worldwide release of "Wampler's Ascent" on the 11Amps network. This is an intense documentary of a physically disabled man's quest to climb Yosemite's El Capitan, as seen through the eyes of his loving wife. Making her directorial debut, Elizabeth Wampler illustrates the moving story of her husband Steve's dramatic undertaking to raise awareness and funds for a specialized camp for kids with physical disabilities, while also providing a glimpse into their own remarkable love story that awakens the potential in all of us. The film is now available for immediate purchase and viewing online at http://www.wamplersascent.com.
Click here to see a film trailer for "Wampler's Ascent"
Tweet your support: Rock on Steve! #wamplersascent http://www.wamplersascent.com
"Wampler's Ascent" takes the viewer deep into what is widely considered one of the greatest challenges in rock climbing—even for an able bodied climber. Steve has been afflicted by cerebral palsy since birth and uses an electric wheelchair for mobility on a daily basis; he has no use of his legs and only minimal use of one his arms. Therefore, due to his disability, Steve utilized a specially designed climbing chair and a pulley system to tackle the vertical rock face that is twice the height of the Empire State Building. With each tug on a pull up bar, Steve lifted himself two to six inches. Steve suffered greatly for six days and five nights from extreme temperatures, seizures, hallucinations, severe dehydration and periods of unconsciousness, alongside gross mental and physical fatigue. This week marks the three-year anniversary of Steve's stab at history.
The movie has captivated film festival audiences and critics alike. "Wampler's Ascent" was the winner of 21 festival awards and 38 Laurel Wreaths, including two awards from the prestigious Cinequest Film Festival. Multiple past recipients of Cinequest awards have gone on to receive Academy Award nominations. LA Weekly film critic Chuck Wilson called "Wampler's Ascent," "a stirring film," while The New York Times David DeWitt writer noted, "The tension and pressure are palpable."
In addition to chronicling the climb, "Wampler's Ascent" gives people an inside look at Steve's lifelong mission—operating a camp for kids with physical disabilities. It was this camp that served as the inspiration for his historic attempt at El Cap, as Steve's ties to it are deeply personal. One of Steve's favorite childhood activities included attending this week-long outdoor wilderness camp every summer. It was here that he was able to feel like any other "normal" child and really began to thrive. However, in 2000, Steve received the devastating news the camp had closed due to a lack of funding. Together with his wife Elizabeth, they vowed to dedicate their lives to reopening and expanding the camp so that every disabled child will have a place to go each summer. Money raised from the film will go directly to building and growing "Camp WAMP."
"Most people are scared of those with disabilities—when I first met my now husband, I was actually completely terrified and felt sorry for him!" said Mrs. Wampler. "But as I got to know him, I fell madly in love with a man who is funny, who has the most infectious spirit, and who is the most committed person you will ever know. And I wanted the world to meet my husband and see that despite his disability, he is going to make our lives matter. Nothing will stop him from making a difference for the kids of 'Camp Wamp', and any other child with a disability."
Mrs. Wampler evokes her husband's same adventurous and ambitious spirit as she tackled this film. With no previous film or editing experience, Elizabeth took on the challenge of directing through the help of 10-year old boys. Working out of her Coronado home, Elizabeth invited the neighborhood kids for multiple movie nights on her front lawn as she worked on the project. As a mother of two herself, she could easily spot the telltale signs of disinterest from her test audience, and used that as a guide on where to improve the film. The end result, "Wampler's Ascent," is what has now been widely recognized as masterful storytelling, or as Frank Scheck from Hollywood Reporter put it, "undeniably appealing and inspiring."
"Wampler's Ascent" is available via streaming for $14.99 for a 72-hour viewing period or $29.98 for a DVD. The movie is also available for "Play it Forward," a new concept where viewers can "gift" an online viewing of the film to up to 10 other people for $99.90. For more information or to view a trailer, visit http://www.wamplersascent.com. To learn more about the Stephen J. Wampler Foundation, how to become involved with Camp WAMP, or for additional information on how to support the Foundation through financial donations, please visit http://www.wamplerfoundation.org/.
About WAMPER'S ASCENT
Wampler's Ascent is a story about Steve Wampler: a husband, father of two, engineer and person with a severe form of Cerebral Palsy. Steve cannot drive, use a fork or button his own shirt, but in 2010, he did 20,000 pull-ups and slept on a sheer rock face for five nights as he took on one of the greatest challenges in all of rock climbing: Yosemite's El Capitan. He knew the challenge would be fierce—he suffered from hallucinations, severe dehydration and periods of unconsciousness on his journey—but Steve took on this mission to show people all over the world that they could do anything they put their minds to, in spite of challenges facing them. Wampler's Ascent is an incredible tale of willpower and mind-over-matter that will surely leave the viewer inspired and uplifted. View the film and climb along with Steve to see if he makes it to the top. Watch it. Live it. Play it Forward at http://www.wamplersascent.com
About The Wampler Foundation
Founded in 2000, The Wampler Foundation provides outdoor recreation programs for children with physical disabilities such as Muscular Dystrophy, Cerebral Palsy, and Spina Bifida at no cost to their families. To find out more about The Wampler Foundation, and to make a donation, please visit http://www.wamplerfoundation.org/.