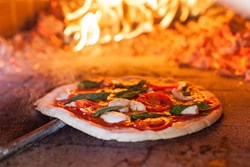 The first Social Life Pizza in San Diego marks the launch of the brand's national expansion, which will begin with a second store in The Grand Canal Shoppes at The Venetian Resort Hotel Casino in early 2014.
San Diego, CA (PRWEB) September 19, 2013
Social Life Pizza, a fast-casual eatery that serves craft-your-own Neapolitan style pizzas, has announced the launch of its concept with their first location opening in San Diego today. Founder and CEO, Joseph DeSantis, whose family has a 55-year history in the pizzeria business, is a veteran of the dining industry. He has developed and franchised several multi-location restaurant concepts throughout the United States. Social Life Pizza is a culmination of these efforts, his family's history in the fast-casual Italian restaurant business and his love for Neapolitan style pies. The first Social Life Pizza in San Diego marks the launch of the brand's national expansion, which will begin with a second store in The Grand Canal Shoppes at The Venetian Resort Hotel Casino in early 2014.
Social Life Pizza serves up a taste of southern Italy with their authentic Neapolitan style pizzas, which feature a crispy crust with the perfect chew and slight char. Guests order at a walk-up counter with a clear view into an open kitchen and high-heat domed Forno oven. The dough is made from imported Double Zero Flour and, after a 48-hour fermentation, is hand-stretched, topped and fired at temperatures as high as 900-degrees, cooking in as little as 90 seconds.
Guests choose from a menu of traditional, specialty, or customizable, "crafted-by-you" pizzas. Toppings include a mix of imported and local ingredients, like San Marzano tomatoes and herbs dried in the Calabrian sun, and California produce, meats and cheeses. Almost all the additional toppings on customizable pizzas are offered to guests at no-charge, so their culinary imagination is the only thing limiting their pizza combinations.
All of Social Life's recipes are developed by Joe in the high-heat oven in his backyard, which was built by a Sicilian tradesman, and are taste-tested by his Italian family and friends.

Traditional Pizzas start at $5.25 and include: Margherita Pizza, Marinara 'Tomato Pie' with San Marzano crushed tomatoes, garlic, olive oil, oregano, sea salt (no cheese), and the Blanco with olive oil, roasted garlic, fresh mozzarella, sea salt (no sauce).
Specialty Favorite Pies include: Porco Blanco, a white pie topped with Prosciutto di Parma, arugula and shaved Parmigiano-Reggiano after coming out of the oven and the Carne with San Marzano crushed tomatoes, whole milk mozzarella, pepperoni, sausage and salami.
Additional toppings for Crafted-by-You Pizzas include: pesto, ricotta, fontina, meatballs, mild fennel sausage, prosciutto di Parma, artichokes, petite tomatoes marinated in EVOO & basil, caramelized onions, a mushroom medley and more.
Gluten free pizza crust also available.
Start the meal with a selection of salads like the Classic Caesar or Mozzarella and Tomato on top of a pizza crust, and Social Life Pizzas' specialty meatballs.
Dessert pizzas include the trademarked Cinn-O'Sweet Pizza™ topped with a special blend of Saigon Cinnamon, brown and cane sugars and vanilla bean sauce or the Cannoli Pizza topped with sweet ricotta blend, chocolate sauce, powdered sugar and Maraschino cherries.
Enjoy California wines and craft beer in the dining room or at the bar. A 10-handle tap will feature a regularly changing selection from breweries like Stone Brewing, Alesmith, Modern Times Beer, Saint Archer Brewing and more.
The first Social Life Pizza in San Diego is a prototypical end cap, strip-center location that is 2,500 square feet, has both indoor and outdoor patio seating for over 60. The design is a blend of urban and industrial with a nod to the familiar with accents of old-world Italian materials, like white tile walls, stone counter tops and an eclectic collection of wood tabletops. Exposed ceiling beams and lighting, warm natural colors and stained concrete floors gives the impression that the space has been there for many years. An open kitchen and service area allows diners to watch their pizza bake in a domed Forno oven. A variety of table set-ups, including counter-level, communal and bar-seating, create an inviting setting for friends, both old and new, to gather over a shared meal of Neapolitan pizza.
Social Life Pizza is located at 6011 El Cajon Blvd., San Diego (El Cajon Blvd. and College Ave.). Social Life Pizza is open Sunday through Thursday from 11 a.m. to 11 p.m. and Friday and Saturday 11 a.m. to Midnight.
Opening specials will include:

Mondays - Kill The Keg Night - half off select beers
Social Hour - Tuesday –Thurs. 4-6 p.m., half off select beers
Community Days - Schedule a fundraiser with and make more dough
For more information, please visit http://www.sociallifepizza.com. Connect with Social Life Pizza at http://www.facebook.com/SocialLifePizza, http://www.twitter.com/sociallifepizza, and on Instagram @sociallifepizza.