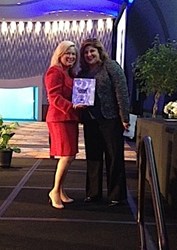 Marci's high level of integrity and the way in which she conducts business has positioned T.E.N. to achieve bottom-line results and long-lasting success...
ATLANTA, GA (PRWEB) September 19, 2013
Marci McCarthy, CEO & President of T.E.N., was named the 2013 Turknett Leadership Character Award Winner in the Small/Medium Business Category during a special luncheon Wednesday, Sept. 18, at the Georgia Aquarium in Atlanta, Ga.
Presented annually by Atlanta-based Turknett Leadership Group, the awards recognize individuals who demonstrate integrity; relate to customers, suppliers, co-workers and others with respect; and maintain a culture in which everyone takes responsibility for achieving results while upholding the organization's core values.
McCarthy was recognized because she embodies the Turknett leadership character model of integrity with a balance of respect and responsibility. She forms meaningful relationships with her staff, clients, and others in the industry, and takes a humanistic, transparent approach to working with and helping others. Marci recognizes that when clients engage T.E.N. for an event, they are making an investment and committing the energy of their financial resources. Marci respects their investment by ensuring they receive superior service – and often more than what is promised.
"Marci's high level of integrity and the way in which she conducts business has positioned T.E.N. to achieve bottom-line results and long-lasting success," said nominator Brooke Cook, vice president of marketing operations for T.E.N. "She excels at empowering and inspiring a "best-of-the-best" team that is committed to the business, and because of her leadership, our team consistently meets or exceeds client expectations and continually strives for innovation."
Outside her role as founder and CEO of T.E.N., McCarthy supports and advances the technology and business communities through various initiatives. In 2012, Marci called upon the information security community to support the victims of Hurricane Sandy. As a result of her efforts and the outpouring of support, the American Red Cross received major donations to fund relief efforts.
For over a decade, she has supported TechBridge, serving in various leadership and planning roles. Marci also served as past Chairman of the American Diabetes Association Father's Day Council and Father of the Year Awards program, raising between $100K to $150K annually, and has served on Women in Technology's Board of Directors for six years. As president in 2001, she drove the highly successful Woman of the Year in Technology Awards (WOTY) program.
In recognition of her leadership and overall work in fostering greater professionalism in the IT security industry and enhancing the efforts of private and public sectors to protect cyberspace over the last decade, Marci was presented with a congressional citation from Rep. Henry C. Johnson, Jr. (D-Ga.) in the 4th Congressional District of Georgia. The citation recognizes her exceptional and distinguished service in providing guidance and leadership in protecting the nation's public and private sectors in cyberspace and designated March 13th as Ms. Marci McCarthy Day, http://www.iseprograms.com/press_2012.03.19.asp.
McCarthy said she was honored and humbled to receive the award for which so many other inspiration individuals were nominated.
The nominees were judged by a five-person advisory group which consisted of Kent C. "Oz" Nelson, retired chairman and CEO of UPS; Conchita Robinson, president and CEO of C Robinson Associates, Inc.; Dr. Betty Siegel, president-emeritus of Kennesaw State University; Tom Crawford, owner of Crawford Corporate Consulting; and Ann Cramer, Senior Consultant with Coxe Curry & Associates. To read about the nominees and winners from the 2012 event, visit http://www.leadershipcharacter.com.
About T.E.N.
T.E.N., a national technology and security executive networking organization, facilitates peer-to-peer relationships between top executives, industry visionaries and solutions providers. Nominated for numerous industry awards, T.E.N.'s executive leadership programs enable information exchange, collaboration and decision-making. Its flagship program, the nationally-acclaimed Information Security Executive® (ISE®) of the Year Program Series and Awards, is North America's largest leadership recognition and networking program for security professionals. Other offerings include the T.E.N. Custom Programs and the ISE® Industry Expert Advisory Services, empowering IT solutions providers to gain access to highly credentialed IT business veterans' expertise. For information, visit http://www.ten-inc.com and http://www.iseprograms.com