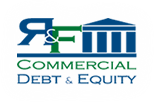 We have been able to take advantage of the precipitous drop in the Real Estate Market and the fact that obtaining a loan from a commercial bank remains a challenge at best.
Washington DC (PRWEB) September 19, 2013
This is an exciting opportunity for accredited investors to participate in exclusive, hand-picked ventures with above market returns. The fund is exclusive to accredited investors. The selected investors will have the opportunity to invest in some potentially high yield real estate ventures not open to the general public.
Because R&F Commercial Debt and Equity has been in business for over two years, with the managing partners having collective experience and expertise in the real estate investment market in excess of 40 years, the investments are typically off market, and have been vetted buy our team. We look for opportunities where the asset is well located, with low leverage, and a good exit strategy. These investments have a higher probability of greater return, with assets that are either directly or indirectly secured.
R&F Commercial and Debt Equity looks at the downturn in the US economy, and the correction in the Real Estate Market, along with the lack of active traditional lenders, and sees a great opportunity. The market is now recovering and even thriving in some markets. This poised R & F to leverage their connections and experience to facilitate ongoing successful transactions to the benefit of their accredited investors while many real estate lenders were destroyed, or nearly destroyed by the "great Recession". R &F was established after the correction, so we are poised to step into the breach. This has been a time for real estate investment firms to show their chops during a period of economic and industry-specific turmoil.
R&F Commercial Debt and Equity was able to do this because they are a private venture capital company specializing in real estate transactions. Their investors are not only institutional but high net worth individuals, making them rich in resources and able to sustain a high level of stability and security even when the larger economy is struggling.
According to Steve Ross, one of the managing partners, "We have been able to take advantage of the precipitous drop in the Real Estate market and the fact that obtaining a loan from a commercial bank remains a challenge at best. We have completed many types of transactions that include lending money, sourcing equity, buying discounted notes, foreclosures and short sales from commercial banks, investing in a manufacturing company and providing a line of credit for a government subcontractor just to name a few. We have financed lots of homes, a winery, a funeral home and half a block in downtown Richmond Virginia. We are excited about the opportunity to mange R&F Real Estate Opportunity Fund 1 and will continue to seek transactions that have allowed R&F Commercial to flourish in the past couple of years. The Washington, DC Real Estate market remains one of the healthiest in the country. We are really lucky in that we also have a Florida office, so we also see many different types of opportunities due to the different markets where we are located."
R&F Commercial Debt and Equity is a real estate venture company with offices in the Washington, DC area as well as Florida. They offer more creative and less bureaucratic alternatives to traditional commercial financing, through debt, equity, ownership, and they structure complicated transactions. They assist their clients in locating, processing, and closing the most competitive capital available in the market place. They have their own capital sources, their own investors, and reliable institutional partners that lead to responsible lending for rewarding results. They specialize in deals between $200,000 and $5,000,000.
Managing this fund for accredited investors only is a tremendous opportunity, not only for R & F, but their potential clients and institutional partners. To get more information, contact Steve Ross or Eric Fedewa here.