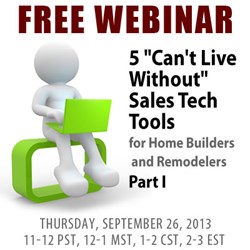 Technology should ultimately simplify and streamline a business's sales process - not hinder it.
Minneapolis, Minnesota (PRWEB) September 19, 2013
The age of traditional real estate is steadily dying out as consumers embrace online shopping methods. Forester Research Inc. estimates ecommerce spending in the U.S. alone will exceed $260 billion this year. This is a sign that sales are no longer made by people looking up a name in the phone book or walking in off the street. If they are going to remain relevant in a changing economy, contractors must continue to embrace technology in their sales process.
Even a little technology can make a huge difference in how a company runs, but the wrong choices can cause problems, frustrations, and ultimately lose sales. To avoid this problem, some companies choose to avoid technology all together, but that too is an error that can lead to plummeting sales.
Rick Storlie knows first hand the struggle to mix great technology and sales. He has been helping remodelers and contractors reach their sales goals since 1992. His signature 5 Step Sales Formula has helped others master contractor lead generation and creating value through designing sales presentations and marketing.
"Technology should ultimately simplify and streamline a business's sales process," said Coach Rick Storlie. "Too often businesses end up wasting time and money on programs that are too complicated, not designed for their system, or do not fit their sales models."
September 26 at 2pm EST, Coach Storlie will be hosting the 5 "Can't Live Without" Sales Tech Tools for Home Builders and Remodelers- Part I webinar. This home builder sales training will break down the life cycle of the marketing and sales process. It will show participants the specific tools needed to master lead generation, value creation, and prospect identification. It will also show contractors how to covert leads into sales and then referrals.
"What's different about this webinar is we break down the sales process of a custom builder or remodeler, and I'll show you the best tech tools to use at each step," said Storlie. "The training also includes real world examples of how these tools are being used. If you aren't tech-savvy, don't worry. All of the information is put in a simple, clear format that even the most tech-challenged builder can understand."
To register for this free webinar, visit www2.gotomeeting.com-register-89­7368426.
About Rick Storlie:
Rick Storlie of New Home Sales Coach has been helping builders and remodelers reach their sales goals since 1992. Rick's Sales and Marketing Library is full of free tips, including generating new leads, realtor strategies, sales techniques and sales management secrets. Storlie can be reached at 952-895-5566 or SellMore(at)GameDayCoaching(dot)com.
For more information about New Home Sales Coach, visit http://www.nhsalescoach.com.