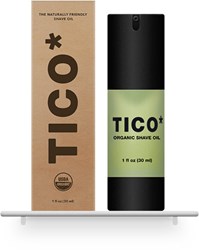 Their twenty-four day campaign ended with an impressive 111% funding of $16,620.
Austin, Texas (PRWEB) September 20, 2013
As of Wednesday night, September 18th, the Austin startup, TICO* Shaving Co. wrapped up their product launch with a successful crowdfunding campaign. Their twenty-four day campaign ended with an impressive 111% funding of $16,620. TICO* Organic Shave Oil is a non-GMO, USDA Certified Organic, all-in-one hemp peppermint shaving solution, that claims to make shaving 'suck less'.
Crowdfunding is a new method of funding projects and startups through viral Internet campaigns that engage a large number of people who have the opportunity to each pledge a small amount of money. Less than 40% of all projects on the popular Kickstarter.com platform are successfully funded, and TICO* beats those odds in spite of hosting their own campaign outside of the Kickstarter community.
"We are humbled by the tremendous support of our backers," said co-founder Travis McAshan. "We wanted to thank all of our supporters who have helped make this dream a reality, and we promise to honor their faith in us by delivering an amazing product that we can all stand behind."
Almost 250 backers across the world stepped up and pledged the funds required to initiate the first production run. Benjamin Daniel of Sydney, Australia was the backer who pledged $100 on Friday, September 13th that officially took TICO* over its $15,000 goal with five days to spare. "It's very rare that you come across a team that creates such an incredible product and also has 'doing the right thing' as one of its main goals. I'm proud to be part of the TICO* shaving revolution and can't wait to see where Rayner and Travis take it next," said Mr. Daniel.
Now that the funding target has been reached, the initial production run of TICO* USDA Certified Organic Shave Oil will begin. This includes the formula's ingredients, recyclable bottling, and recycled packaging materials. "We now have the required capitalization to initiate operations and production, but more importantly, we have a community of supporters that are excited about TICO* and what it can do for them," stated co-founder Rayner Smith. "We can't wait to get this incredible product into everyone's hands. I am confident it will change the way you think about shaving."
People who backed TICO*s crowdfunding campaign should expect to receive their orders within approximately 60-90 days. TICO* is now available for pre-order at http://www.ticoshaving.com.
For more information about the TICO* Shave Oil project, or to schedule an interview with Rayner or Travis, please email hello(at)ticoshaving(dot)com or send them a tweet @ticoshaving. Press kits are available at http://www.ticoshaving.com/about/press.