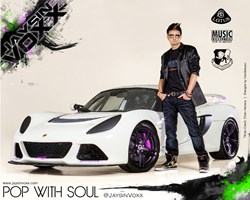 (PRWEB) September 19, 2013
Jaysin Voxx, the Pop with Soul Sensation from the Bay Area, has just announced that Howard Rosen Promotions has been signed to promote his new single "Cause Everytime" which is available now on iTunes.
With a full-blown radio promotion slated, Howard Rosen Promotions has worked with Kanye West, Jason Derulo, Janet Jackson, Creed, Aerosmith, Bon Jovi, Green Day, The Killers (just to name a few) and has put many of them in Billboard's Top 40. The list of record labels they have worked with is just as lengthy, Roadrunner, Atlantic, IDJMG, Fueled by Ramen, Capitol, Epic, Blackheart, Warner Brothers, Fearless, Reprise, Universal, S-Curve, Sony, Island and many more.
With offices in Los Angeles and New York, Howard Rosen Promotions is the perfect fit for Voxx's new single "Cause Everytime" to get airplay nationwide as the wait has been teasing his loyal fan base. The music video promo of the song went viral with over 150,000 views on YouTube so far, showcasing Voxx's rawness of hip-hop with the universal appeal of Pop with Soul to create something that is not only marketable, but truly unique and speaks to all ages.
Now available on iTunes, "Cause Everytime" can be found at the link below:
https://itunes.apple.com/us/album/cause-everytime/id699251523?i=699251787&ign-mpt=uo=4
"Cause Everytime" has been touched by some truly talented people in the music industry. Evren Göknar, who has mastered some of the biggest songs to hit the air from 2 Pac, Snoop Dogg, Montel Jordan, and numerous Motown Hits for Capitol Records, EMI & Razor & Tie, has lent a hand. Now over at Universal Music Group, Evren saw Jaysin Voxx's song as a "hit in the making" and immediately offered his expertise in mastering the record. Mixing was done by Kosta Lois, who has been busy working with names like Mosley Music Group, Timbaland, and Pulse (Katy Perry, Britney Spears, Bruno Mars).
Jaysin Voxx is also receiving growing attention from the fashion community, with designers like Yakitoko, an exciting brand of "street-wearable art" along with Vlado Footwear, a celebrity-favorite brand worn by Justin Bieber, Chris Brown, Ne-Yo, Snoop Dogg, Chamillionaire, E-40, Nick Cannon, LL Cool J, Jamie Foxx to name a few. Also supporting Voxx is international high-fashion designer Dawn Sunflower. Dawn has requested to use "Cause Everytime" for her upcoming Couture Collection Show at PLITZ for New York City Fashion Week in association with Hollywood Weekly Magazine and has plans to use a group of Voxx's songs for her Runway Show in Vietnam early next year.
Voxx has had a very busy and productive summer 2013 from appearing on red carpets in Vegas for Hyde at Bellagio and XS at Encore to performing the National Anthem for our American Veterans. He has also expanded his reach to other countries, gathering strength in China, Japan and other parts around the world including a strong showing in the Philippines appearing with such Filipino celebrities as Introvoys, GMA Network stars Glaiza de Castro and Dr. Tess Mauricio, as well as his support of The Miss Philippines USA Contestants including Joanlia Lising and 2013 Winner Jasmine Sabio.
With many appearances both on radio, TV and club tours, Voxx is now gearing up for a nationwide radio push through the end of 2013 which will set him up for a fall tour.
Jaysin Voxx is now considering distribution and label interest.
Like his Facebook fan page at: http://www.facebook.com/JaysinVoxxMusic and follow on Twitter @JaysinVoxx.
For booking and appearances, please contact Anna Q at AQtalentandbooking(at)gmail(dot)com.
For media inquiries and interviews, please contact:
Kelly Bennett
Bennett Productions Unlimited
(949) 463-6383
Kelly(at)BPUnlimited(dot)com
http://www.BPUnlimited.com