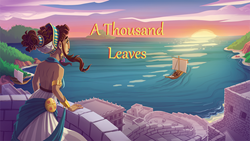 We have invented an inspiring medium in which to explore the mysteries of history with ease and creativity.
Vancouver, British Columbia (PRWEB) September 24, 2013
Black & Darker Entertainment Inc., a Vancouver-based start-up led by a small group of artists and entrepreneurs, is crowd funding its edutaining vision, A Thousand Leaves, a game that teaches art, literature and history.
A Thousand Leaves is a mythico-historical card game of drama and mystery made from 1000 unique Cards, each inspired by special parts of history. The title evokes the oldest known Japanese poetry anthology, Ten Thousand Leaves, which transferred many oral poetry traditions to paper for the first time in the 8th Century.
"Popular tastes in reading and learning are clearly shifting towards interactive media, and it is important not only for our happiness but for culture generally that we use popular media to sustain an interest in history, art and learning. My game does this with flare and originality while allowing people to interact socially," says Stephen Morris, the game's designer, a passionate historian and artist. "We have invented an inspiring medium in which to explore the mysteries of history with ease and creativity."
Easy to learn but hard to master, A Thousand Leaves promises to be a top-notch multi-player role-playing game comparable to many that currently dominate the market, such as Citadels, Legend of the 5 Rings, Civilization, or Dominant Species, although A Thousand Leaves provides a level of realism that is often absent in other games.
The game blends ancient works of art with poetry and aphorisms taken from the literature of 8 ancient Eurasian cultures and weaves them into a tapestry. It even offers a battle matrix drawn from the ancient classics of warfare themselves. A Thousand Leaves is constructed with a knowledge of educational games (edutainment) and pedagogy, although the game is meant to be a work of art, not science. It inspires the imagination even as it searches the soul and satisfies a hunger for novelty and excitement.
For additional information, visit the following site:
A Thousand Leaves or contact steve(at)gameofleaves(dot)com.
About Black & Darker
Black & Darker Entertainment Inc. is a developer of innovative educational entertainment. Its directors each have over 12 years of experience in their respective fields and are committed to inventing products that test the limits of the imagination.