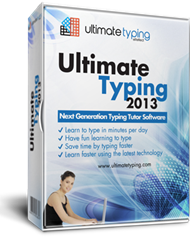 ...have a look at the range of benefits learning typing offers, including a productivity boost and better workload management.
New York City, NY (PRWEB) September 23, 2013
eReflect company, developer of Ultimate Typing™ software, announced today the company's intention and willingness to collaborate with affiliates who wish to promote Ultimate Typing™ software through their own websites and blogs. eReflect expressed the company's intention of promoting Ultimate Typing™ through affiliate marketing, something eReflect has been considering since the software's launch.
The announcement from eReflect addresses all online businesses who feel they are in some way related to Ultimate Typing™. The software developers call to all educational, learning-promoting website curators, managers and bloggers, to visit the official Ultimate Typing™ website to get acquainted with the software's potential. However, eReflect's call is not limited to educational websites, but extends to technology and gadget ecommerce sites or blogs who might benefit from being affiliated with eReflect's Ultimate Typing™ software.
eReflect announced that they offer a very easy to understand and complete sign-up form for interested businesspersons wishing to become Ultimate Typing™ affiliates. Interested individuals need to fill in the online request form, after which an eReflect staff member will get in touch to finalize the affiliate deal. As eReflect has noted, despite Ultimate Typing™ being a relatively new software product on the market, there are many organizations and individuals who wish to become affiliated with the typing skills improvement software and earn from this collaboration. In its announcement today, the company emphasized the support and continuous interaction that exists between eReflect and all its online affiliate marketers, underlining the significance of constant, fruitful communication for the benefit of both parties.
eReflect's statement concluded by encouraging interested affiliate marketers to have a look at the range of benefits learning typing offers, including a productivity boost and better workload management. eReflect expressed the company's optimism that its affiliate marketing network will soon expand and many more individuals will get a change to collaborate with eReflect and Ultimate Typing™ software.
For more details on Ultimate Typing™, please visit http://www.ultimatetyping.com/.
About Ultimate Typing™
Ultimate Typing™ software is designed specifically for the improvement of typing skills. Created by eReflect, a world leader in e-learning and self-development software, Ultimate Typing™ has been informed by the latest developments in the science of touch typing.
Since its creation in 2006 by Marc Slater, the company has already catered to over 112 countries all over the world, offering products with the latest cutting-edge technology, some of which are among the world's most recognized and awarded in the industry.