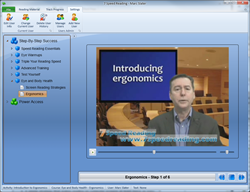 ...price and convenience are the two basic factors that have encouraged readers to switch from print to digital media.
New York City, NY (PRWEB) September 25, 2013
The 21st century has created many changes in technology, and one change has led to digital media replacing printed materials in many cases, announced the eReflect team during a recent briefing. The team pointed out that many readers now prefer to read from e-reading devices instead of printed books. This change in reading habits can strongly impact the reading habits of children as well as adults, stressed the eReflect team, something that parents need to keep in mind.
In order to explore the changes within the world of print and digital media, eReflect recently conducted an interview with Dan Eldridge, the personality behind TeleRead.com. The interview, published on the blog at the 7 Speed Reading website, details the conversation that took place between eReflect and Dan Eldridge on a variety of topics. During the interview, Eldridge noted that price and convenience are the two basic factors that have encouraged readers to switch from print to digital media.
The eReflect team strongly agrees with this statement and believes that e-reading devices have drastically changed reading habits. However, Edridge also believes that parents should not only focus on providing children reading material through e-reading devices, but should also encourage reading through print media.
The eReflect team pointed out that parents may fear that e-reading devices might result in children being less willing to develop good reading habits. However, this fear is not valid, stated a spokesperson from the eReflect team. One study by the Scholastic Kids and Family Reading this year suggests that in fact the reading habits of children are likely to vastly improve with the help of e-reading devices. The study stressed that e-reading devices offer portability and flexibility as opposed to print media, and therefore the devices can be used just as easily to help parents to instill good reading habits in their children.
eReflect noted that the changes within digital media highlighted during the interview with Dan Eldridge further stress the need for readers to learn speed reading techniques. Reading fast is now made possible for anyone simply by implementing speed reading techniques, and eReflect believes that 7 Speed Reading software is an ideal software product for enhancing the reading speed of both students and adults so that they can absorb and comprehend information at a faster pace and keep up with the changes in publishing that Eldridge talks about on his website.
For more information about the benefits of using 7 Speed Reading, please visit the official website at http://www.7speedreading.com.
About 7 Speed Reading™
7 Speed Reading is the only modern speed reading software that uses the latest technology to produce superior results.
The software provides its users with a new way to master speed reading that guarantees three times the reading speed along with improved memory and comprehension.
The software is poised as the most comprehensive speed reading system anywhere. It contains seven learning strategies, fifteen software activities, video training, advanced tracking capabilities and many more exciting features.