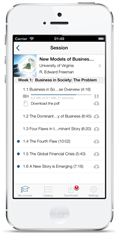 This app has an awesome interface and easy controls. I can finally watch the lectures wherever I am without being tied to a computer and an Internet connection - Kattie Stratford, University Professor and Coursera Student.
Saint-Denis, France (PRWEB) September 20, 2013
••• Explore new knowledge
Coursera has established strong and durable partnerships with the world's best universities such as Stanford, Princeton, Polytechnic and many others.
With a polished and well-designed user interface, everyone can now explore the complete catalog of courses from their iPhone, access detailed descriptions about the course, the professor, the university, ... and enroll in their favorite classes in one touch.
••• Download & archive lectures
The main interest of Courserapp lies in the ability to download automatically the lectures, with an ultra simple and efficient download manager, to watch them offline at any time.
The downloaded content (videos and PDF slides) can be easily exported to a computer through iTunes file sharing or via email.
••• Study on the go
Once downloaded, the app can play the lectures with an integrated video player and an advanced PDF viewer with a convenient bookmark feature. On the bus, in the train or in the subway, in a bed or in the sky, accessing the knowledge has never been so simple.
And if the screen is too small, it's now possible to stream the lectures on an Apple TV. Definitively the best way to enjoy Coursera.
This iPhone app is not an official app and is neither affiliated with, nor endorsed by Coursera. Coursera® is a registered trademark of Coursera, Inc.
While Coursera think about to develop his own mobile application, Courserapp's developers claim that they are willing to help, in the extent of their competences, the Coursera team to build the best iPhone app.