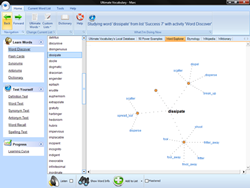 Contrary to what people might think, efficient learning takes place in a classroom where there's noise, activity, laughter and fun.
New York City, NY (PRWEB) September 28, 2013
The team behind the Ultimate Vocabulary™ Blog recently interviewed Richard Graham about his innovative teaching English methodology, sharing with Ultimate Vocabulary™ readers new insights and techniques for making learning fun without sacrificing efficiency. Richard Graham explained how the Genki English method came about and how it is used in classrooms and homes to help ESL students learn English through games and exciting activities.
As Graham revealed in his interview with an Ultimate Vocabulary™ editor, the word "genki" in Japanese refers to something that's full of life and energy. This concept has been transferred to the methods that Graham developed for his Genki English teaching methodology. The basic principle of Genki English is that the student is actively and interactively engaging with knowledge rather than passively receiving it ready-made. While he admits his approach to learning is not groundbreaking— as this is not the first time play and fun activities have been used as a means of learning — he does nonetheless insist that people realize how efficient it is in contrast to other, more passive teaching approaches.
Through a variety of games, activities, phonics, songs and even crafts and picture books, the Genki method relies on the active participation of the student in his or her learning process. The teacher is no longer the focus of the classroom; instead, the focus is solely on the students, who lead many of the activities and exercises themselves. Through fun and efficient learning tools, the teacher gives students plenty of material and stimuli to learn from, Graham revealed in the interview.
Efficient learning, Graham reported, is generally not happening in "serious" classroom settings. Contrary to what people might think, efficient learning takes place in a classroom where there's noise, activity, laughter and fun. It's through communication and interaction that learning is most successful, something he highlighted in his interview with the blog editor of the vocabulary program, Ultimate Vocabulary™.
The methodology of Genki English that Richard Graham introduces to teachers worldwide focuses on speaking and listening more than it does on writing and reading. As he confirmed in his interview, it's crucial that the student acquires the confidence to speak a new language right away, even if they're only starting to learn it.
For more information on how you can benefit from Ultimate Vocabulary, please visit its official website, http://www.ultimatevocabulary.com.
About Ultimate Vocabulary™
Ultimate Vocabulary provides a proven and powerful platform, built to improve anyone's vocabulary.
The interactive self-improvement system provides more learning tools than any other program on the market, as well as more information on words.
The Ultimate Vocabulary software provides each and every user with a personal computer tutor. Providing a step-by-step guide to learning a powerful vocabulary, Ultimate Vocabulary is the learning tool everyone can benefit from.
Of course, the software is also backed by eReflect's iron-clad money back guarantee.